It's another FinTech Bite and we are pumped to discuss what has been most talked about top within our fintech analysts' team. For this month what has been most intriguing in the fintech landscape is another feature that existed before COVID-19 but which received a tremendous boost because of it. This time we are talking about Video Banking.
What is video banking?
Video banking is not on its own another way to conduct banking (e.g., phone banking, digital banking) but it's largely considered another digital banking feature provided through desktop or mobile applications.
Essentially, Video Banking is another means of communications and support for customers. This digital offering was (and continues to be) particularly useful for people who needed to visit a branch during the pandemic but were unable to because of branch closures or because they had to shield themselves from the virus but required help from their bank.
The feature quickly grew in popularity among users. More and more people became accustomed to video chats when they were forced to work from home. Video meetings almost completely replaced face-to-face meetings during that period and continue today to be highly favored for employees who still work or plan to always work remotely. It's highly logical then for banks to offer such services to simplify customer service for people who would prefer to conduct their banking over video conferencing than visit a branch.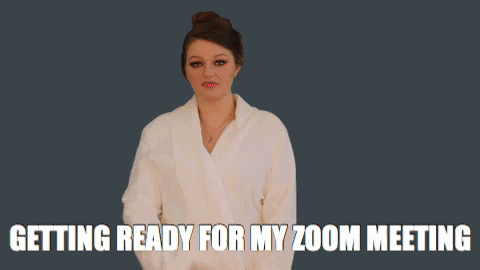 Customers already seem to embrace the idea of Video Banking. POPi/o, a video banking technology provider has reported that its 120 retail banking customers were generating around 30.000 such calls per month. The company's CEO, Gene Granger, in an interview for The Financial Brand, said that the company is generating more and more video calls which generates more revenue. He mentioned that general service calls among its retail clients has decreased by 4% and profitable interactions increased by 5%.
The simplicity and ease with which people could address and solve some of their banking problems does not go unrecognized by customers.
How does video banking serve customers?
Initially, video banking was primarily offered to aid customers who due to COVID-19, which caused branch closures for customer safety, were unable to conduct their banking. It further served to cater customers who were unable to visit a branch when they reopened as they were required to shield themselves further.
Like a regular visit to a branch, customers would book an appointment on spot or at a later date and discuss an issue they might be having or do something that would require their presence. Video banking serves to resolve customer issues with their banking that might be too complex to be solved over a chat conversation or phone call and requires a more direct approach.
Besides helping with customer service, video banking could become a complete alternative to branches, functioning as virtual branches; offering meetings with personnel that could advise and educate on various topics from saving to budgeting and even investments.
How does video banking work?
Currently video banking takes the form of instant appointments at the moment customers request them via their desktop or mobile device or booking them ahead of time.
Instant Video Banking Support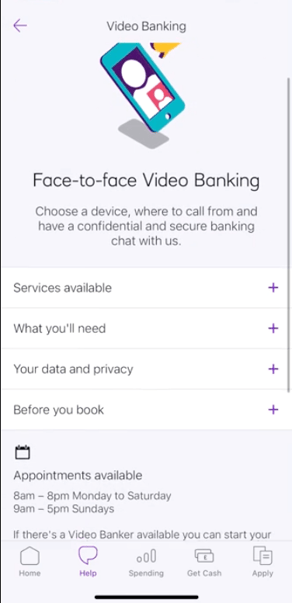 The customer requests help from a customer service agent and gets in line for the next available video appointment. An example of a bank offering this digital banking feature is NatWest in the UK. The bank offers a direct video banking appointment. Users are required to have Zoom to continue and the bank provides them with a link to install it if they don't already have it. Then they have to specify the reason they request the call and will be redirected to an appropriate representative to resolve their inquires.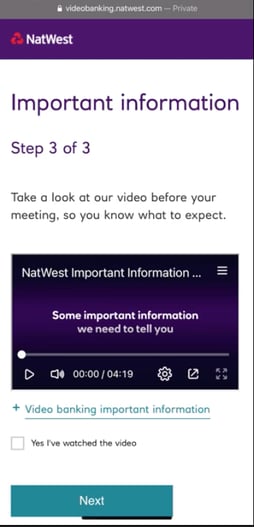 They, finally, fill in their details and are presented with a video with instructions on what to expect while they wait for the bank representative to connect.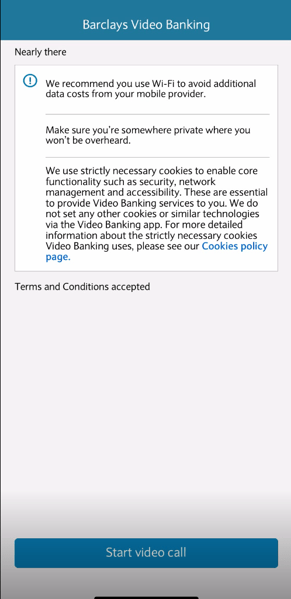 Barclays, another UK bank, provides the same feature but the video conference is performed via an external app that customers have to download.
Video Banking with Appointment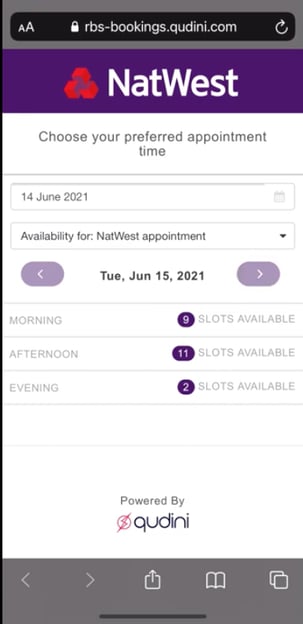 In this iteration of the feature, customers select the day and time of the appointment with the bank according to the availability of both parties. The day of the appointment they have to log in to the meeting request they have been sent. NatWest offers this iteration as well. Customers, after specifying why they need to book an appointment are redirected to the specialized bank representative. Then they have to select the day and time that suits them best and will receive the details of the appointment through an email.
In Affinity Plus Federal Credit Union, in the USA, customers can, if they wish, arrange a video call chat with a bank representative to discuss loan and new account opening options.
Video banking is here to stay. Apart from functioning as a great solution for enabling customers that are unable to attend face-to-face meetings, it opens the road to a truly revolutionary idea of virtual branches. Success in catering customer demands though the video channels bodes extremely well for the notion of virtual branches. This could serve as the start of discovering and reaching that fine line that combines the digital banking channel with the need for more personalized experiences in digital banking and the often-missed human element of visiting a branch.
Wish to know how to offer Video Banking to your customers?
Then head over to and discover these user journeys and more that will captivate your customers with your digital banking.
Read more FinTech Bites:
Ranking of Functionalities of UK High Street Bank
5 Key Functionalities in Junior Accounts
"Split the bill" functionality in the US market
Functionality Ranking – USA Challenger Banks