It's time for another FinTech Insights Spotlight!
So far, in our two previous monthly blogs we shed light on two Challengers banks that have taken their respective markets by storm. In our inaugural blog we talked about US Challenger Chime, while in the second one we examined UK Challenger bank, Starling Bank. Our focus was put on discovering their position in their markets and pointing out their most innovative digital products and user journeys.
This month we turn the light on the number one largest bank in the USA according to its assets, which are estimated to be $3.21 trillion: JP Morgan Chase. The US bank according to the Federal Reserve places atop the market's banks, with second place awarded to a fierce competitor Bank of America with $2.32 trillion as can be seen in our BofA vs M&T Bank. The New York headquartered bank was founded in 1799 and represents one the largest and most popular financial services and investment institutions in the USA and the world today.
Since it represents one of the most popular banks in the USA, we thought it wise to put it under the microscope and examine its digital banking elements that make it favorable to customers.
As with the previous installments we'll take a look at Chase bank's
position in the US digital banking landscape
most innovative digital banking products
best-in-class UX-evaluated user journeys
for its best performing channel: the web.
To uncover all this information, we will be using
, the digital banking research platform that analyzes banks and fintechs worldwide while evaluating their offerings UX.
Where does Chase stand in the US market?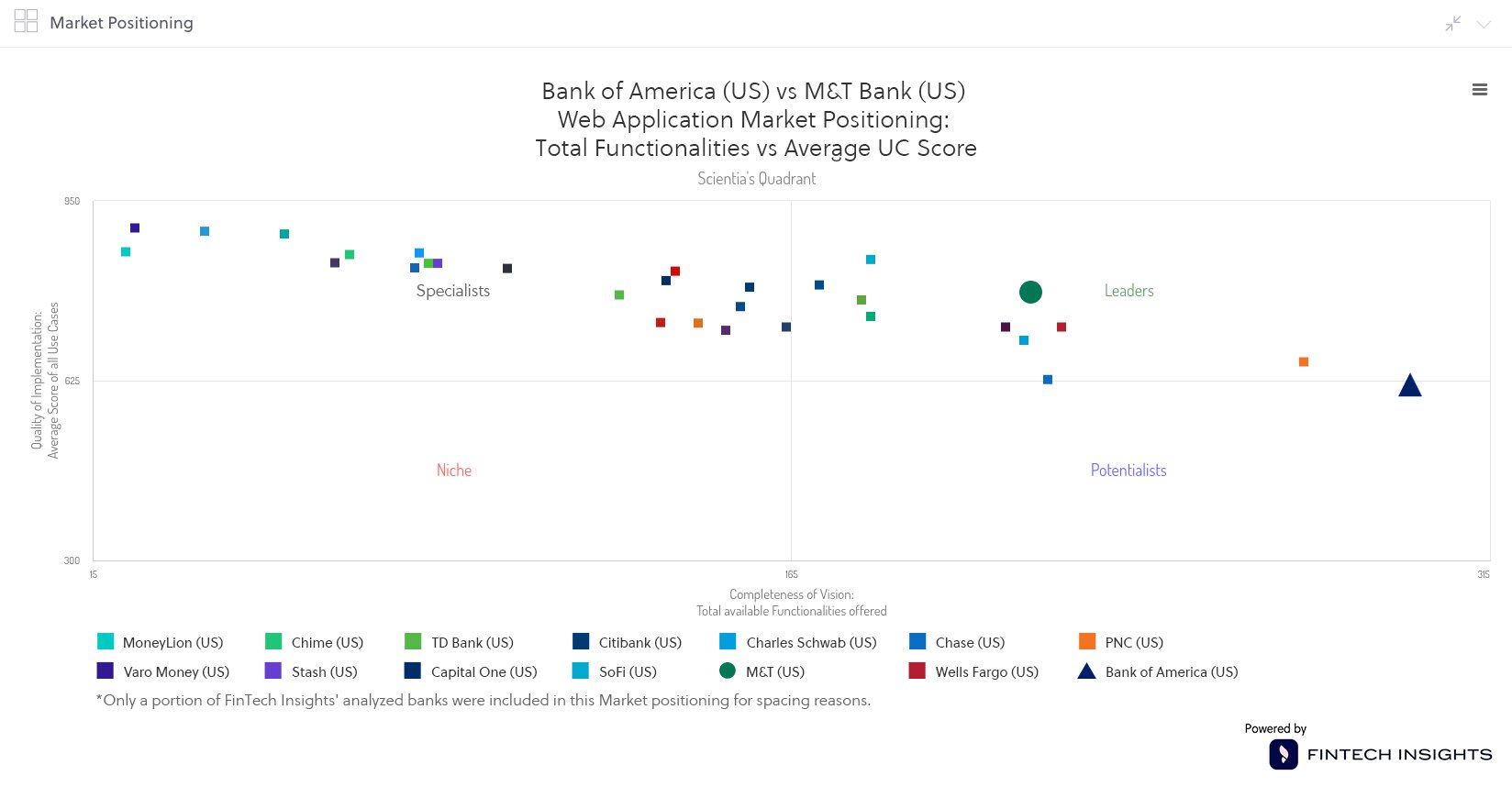 As can be seen in the above quadrant, Chase bank places in the line between the "Potentialists" and "Leaders" section. This is attributed to the bank's increased number of features and the relatively good UX. In the same section other US market giants can be seen such as Wells Fargo, PNC, M&T and Challenger SoFi which offer slightly better UX. A little below Chase, in the "Potentialists section", is Bank of America which offers more digital banking features but comparatively less good UX. Finally, in the "Specialists" section, we find Challengers Revolut, MoneyLion and Stash.
3 innovative digital banking features
Opt in/out of Alert Notifications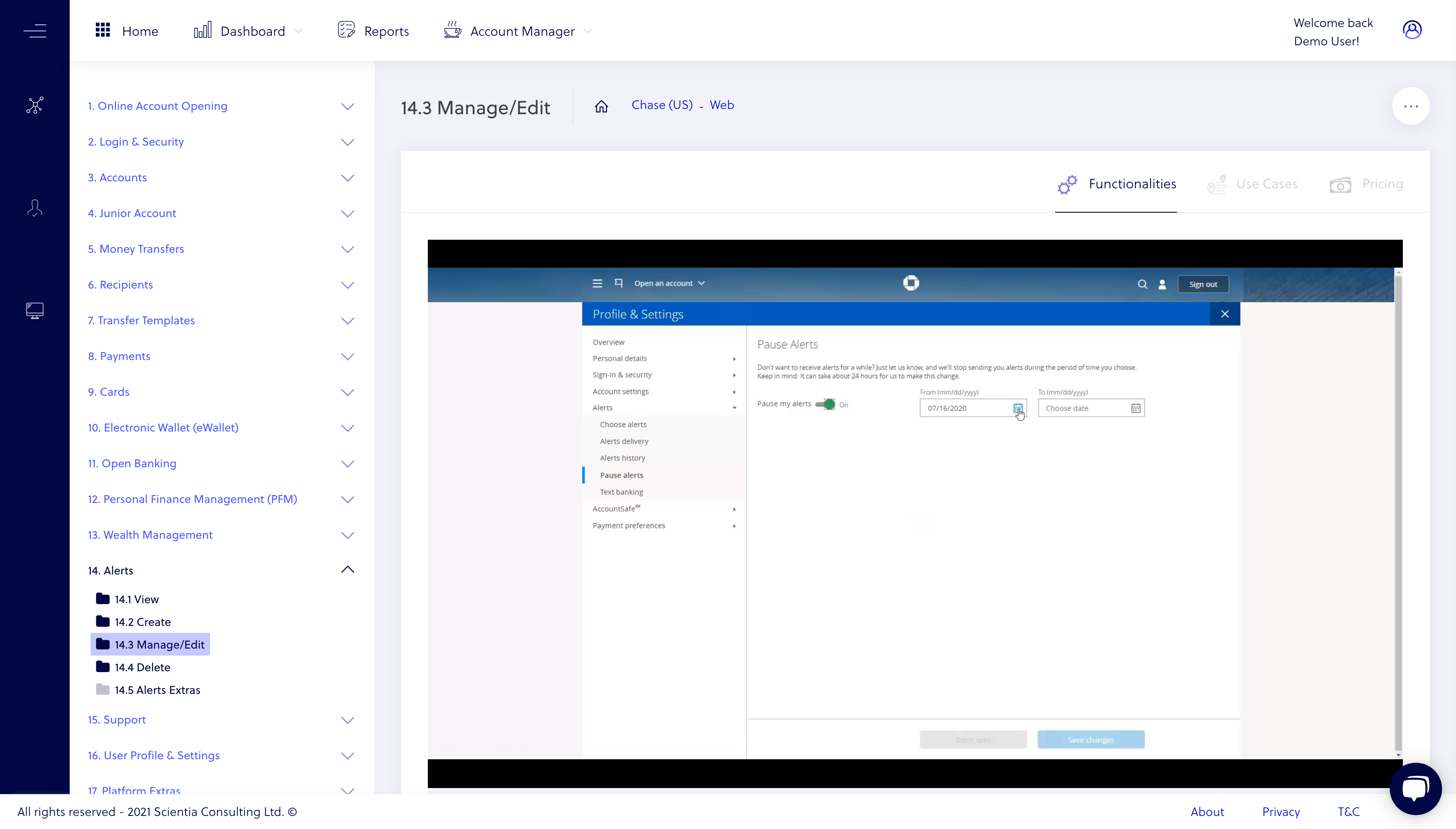 Customers of Chase bank can easily choose to turn on or off their alert settings. They can create new, delete or edit their push notifications and alerts they receive according to their preferences. They can additionally choose the time to receive these alerts as well as pause them for a specific period of time for their choice. The alerts they can choose from include Balance alerts, Transaction alerts, Protection and Security alerts. It seems that the bank has put great emphasis on a fundamental digital banking feature set.
Request money from others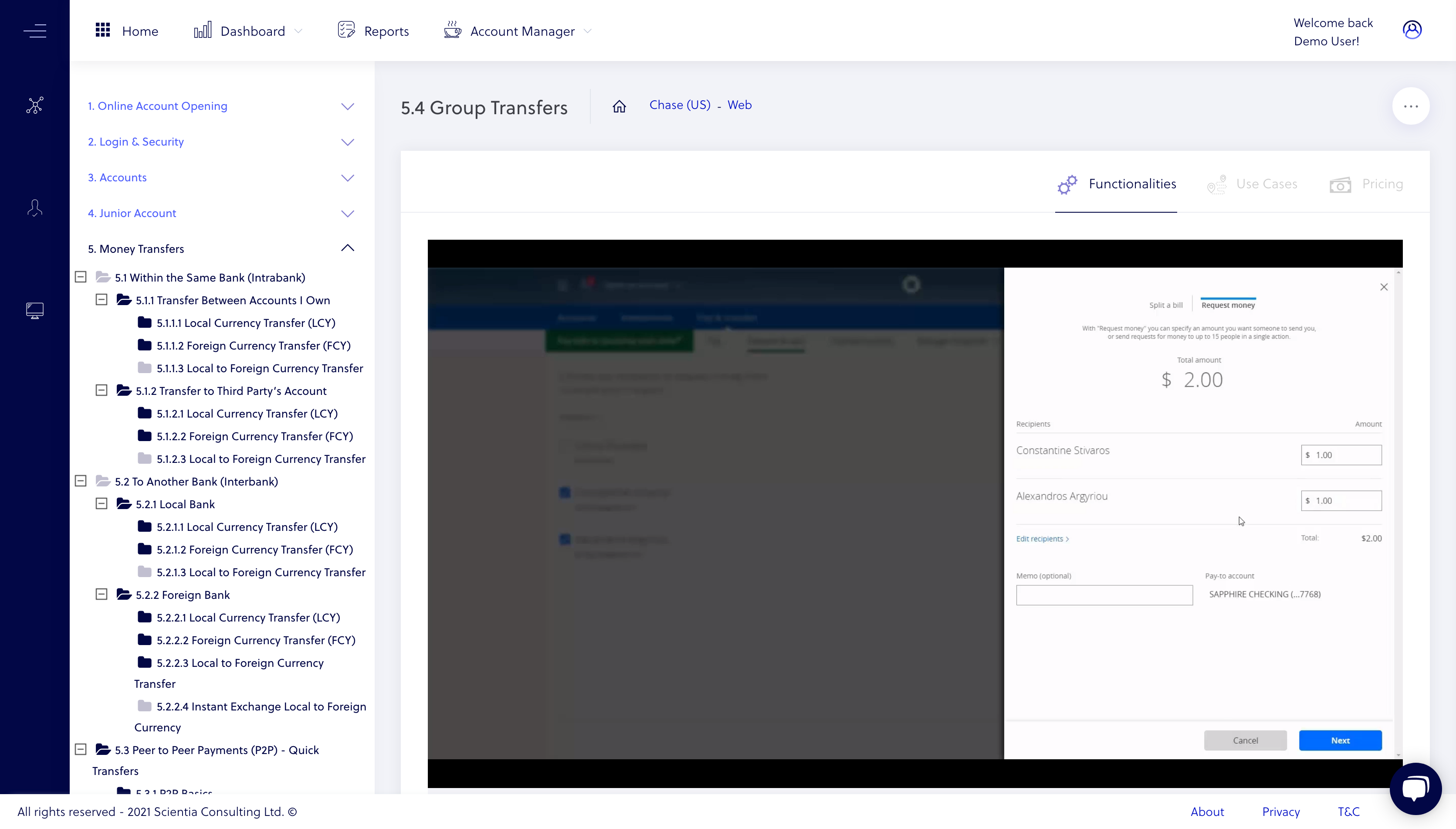 Chase bank through a partnership with Zelle allows its customers to request money from their friends through their desktop. Simply by selecting already saved contacts or adding new ones, then inputting the total amount and the amount that each of them (if they are many) should pay, they send them a payment request. Chase provides an easy way for customers to ask financial help from their friends when they might need to.
Intuitive financial statements management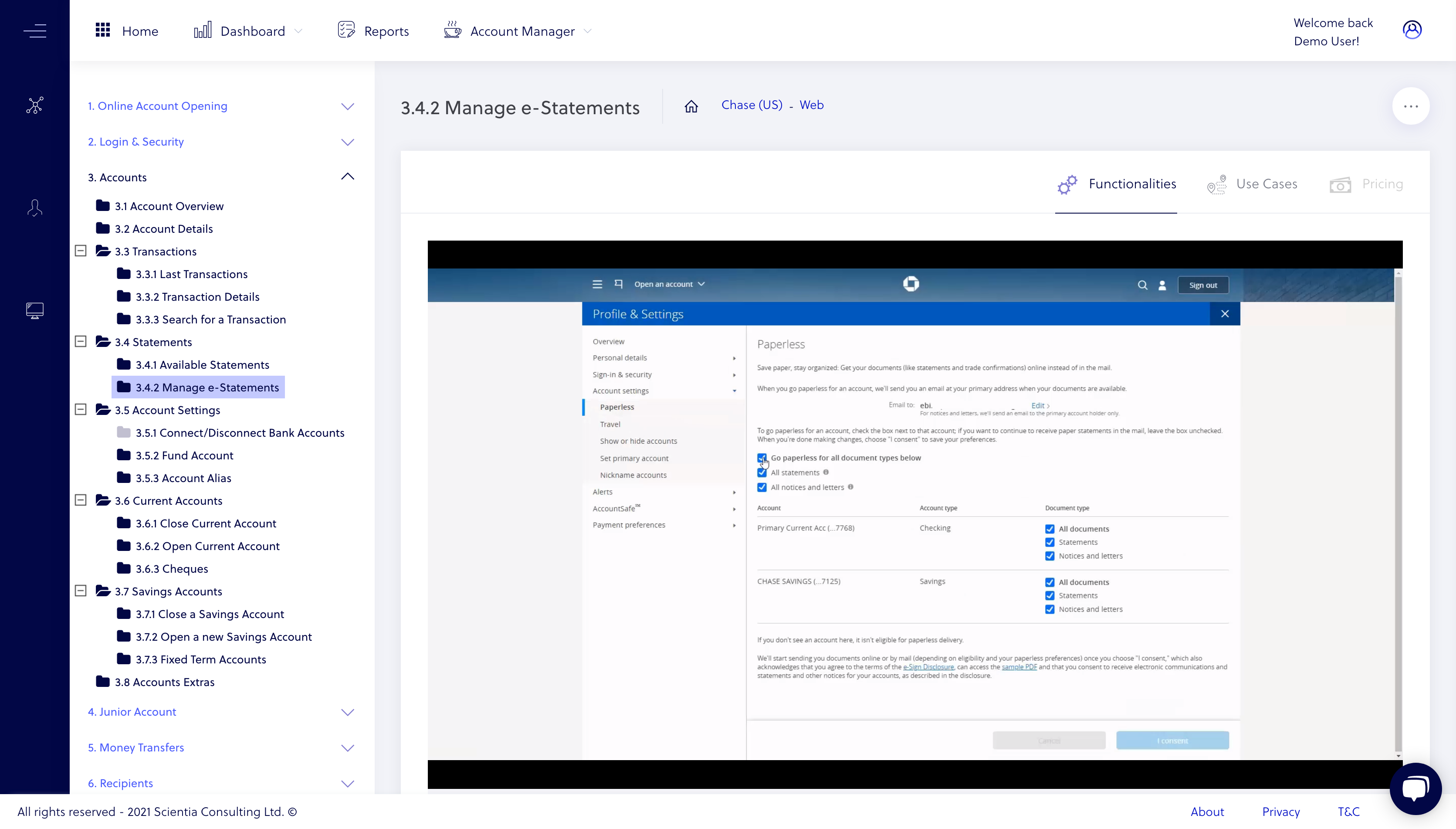 Keeping up with your finances and spending is central to a healthy financial wellbeing. Customers of Chase are privy to helpful document management. They can through their desktop activate to receive physical statements through mail or solely digitally through email. They can also select a specific document to receive through the mail in paper, go completely paperless and even change the email address where they would like to receive their documents.
3 best UX-evaluated user journeys
Open a Saving Account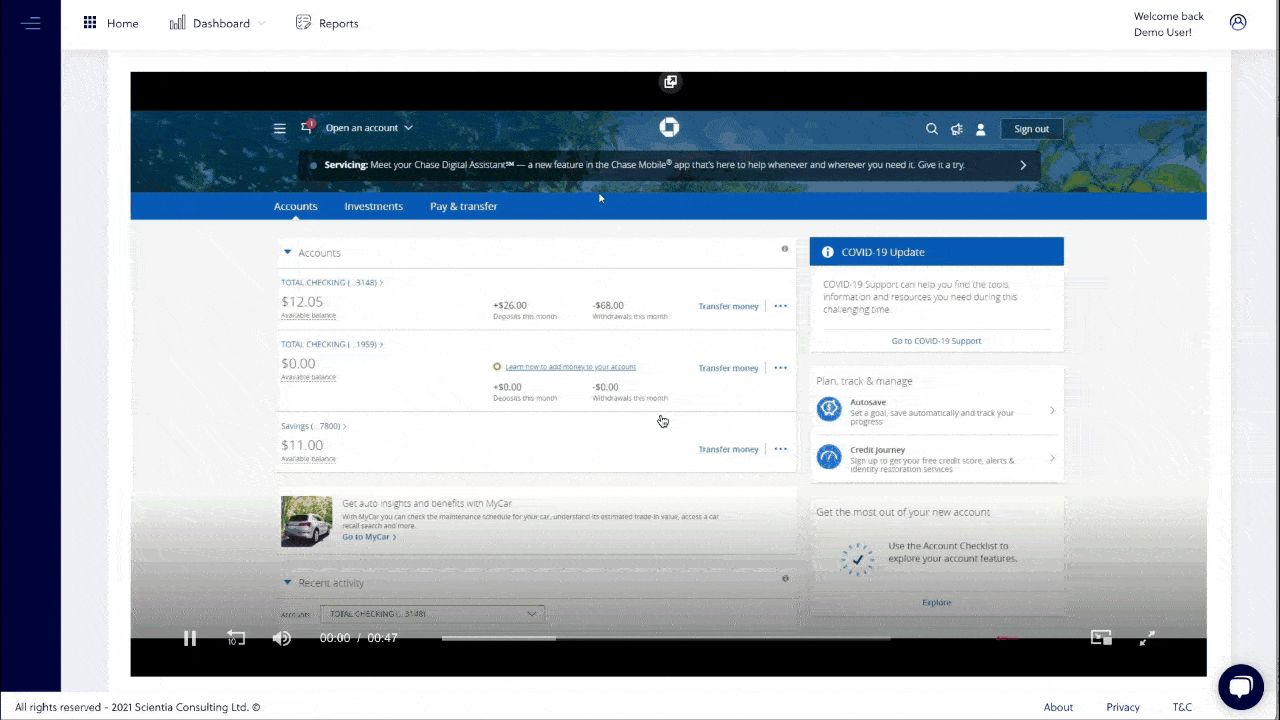 Savings are vital for customers' financial well-being and it is extremely important that banks make it easy for customers to save. Chase bank achieves that by allowing its customers to open a Savings Account in only 22 steps in a user journey that is UX-evaluated at 770 out of 1000 according to FinTech Insights' Perfect 1000 methodology. Through a swift and easy process Chase customers can open their account on their desktop in minutes and begin saving money. And there is no better way to do that than with the help of the bank by offering a goal.
Set a Saving Goal
Besides offering a great user journey for opening a Savings Account, the bank provides the best UX-evaluated journey for creating a Saving Goal in the US market. In 29 steps and with a UX score of 488 out of 1000, the bank takes the first place for providing an easy and smooth journey through which they will create custom goals. They can choose between a goal for a car, a trip, a house, a splurge, their future or any other reason they might want to. They have to select the target amount and date and schedule deposits to their savings account according to their preference to complete the process and start saving.
Open banking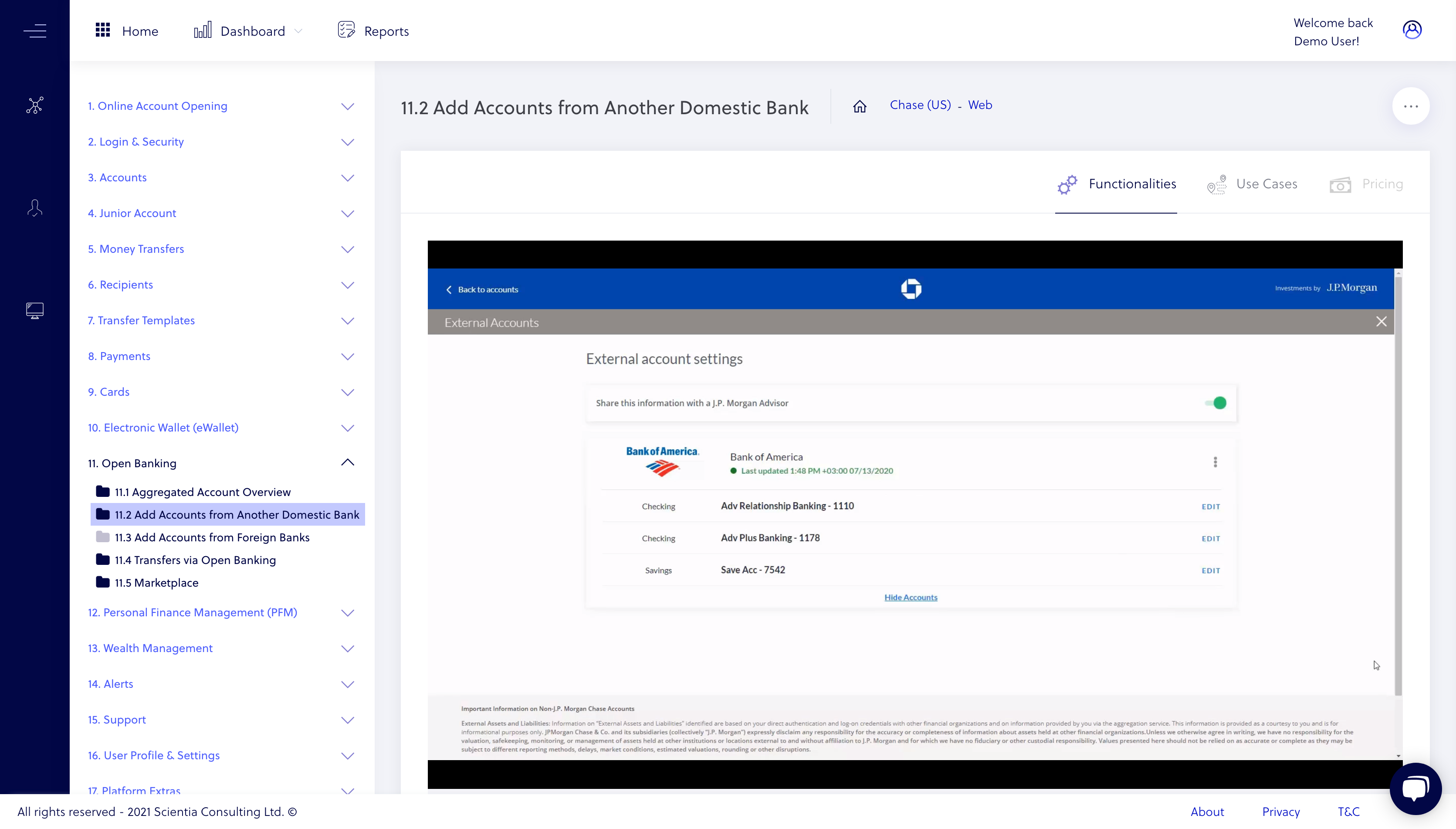 Another great user journey that Chase offers and which that takes the first place among other US market competitors is Open banking. Chase customers can in only 9 steps connect another domestic bank account they have to the giant banks' e-banking. This journey is UX-evaluated at 930/1000. But, what is also impressive about the bank's Open banking capabilities is that users can have an overview of the latest transactions of the aggregated account connected to Chase. This second journey takes 9 steps to be completed and is evaluated at 945 out of 1000.
Chase bank rightfully takes a place among the most innovative banks in the world. Apart from its top placement as the most popular by number of assets bank in the US market, it also lands a great place in the web digital banking quadrant, between "Potentialists" and "Leaders". That can be attributed to the high number of extremely useful features offered like Security, Finances Management, Open Banking and Payments which are provided with exemplary UX. By focusing on primary and vital customer needs, the Goliath of banking has drawn a large crowd for its services.
Want to know how we know all these about Chase?
Then head to today. The platform has banks and fintechs globally exhaustively analyzed so you can always know what's new and innovative in digital banking.