Welcome to the FinTech Insights Spotlight series!
We are thrilled to be embarking on this new series with you! The FinTech Insights Spotlight series will be turning the light on to banks and fintechs from all over the world, examining what makes them stand out from their competitors in their digital banking.
We will be talking about:
their digital banking position in the market,
their most exciting and innovative features
their best UX-evaluated use cases.
Every month a new bank or fintech will put financial institutions around the globe under the FinTech Insights Spotlight examining their iOS digital banking channels.
Our aid to this journey will be
. The digital banking research platform fully analyzes all features from A to Z from banks and fintechs internationally.
Explore and begin creating these features that will make your bank stand out.
For our first ever episode we will be showcasing the Challenger that a few weeks ago reached a settlement with US regulators agreeing to not use the word "bank" to define itself. This settlement steered lively discussions about how the Challenger should be categorized and what might be the future of other institutions like it.
We are of course talking about US Challenger (not a bank) Chime. The Challenger has managed to amass over 12 millions customers since its launch back in 2014 becoming the number 1 Challenger in the country based on users.
So let's drill down into what makes Chime app so favorable to customers.
Let there be light!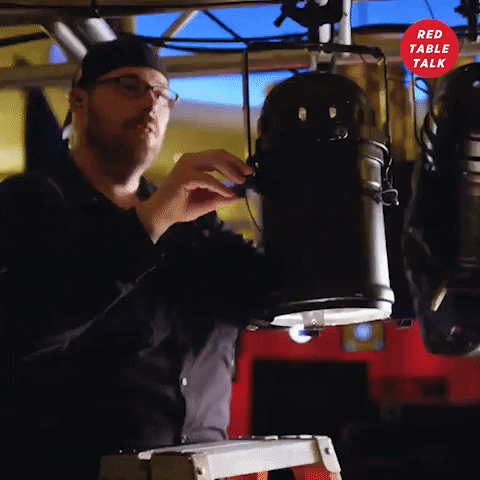 Positioning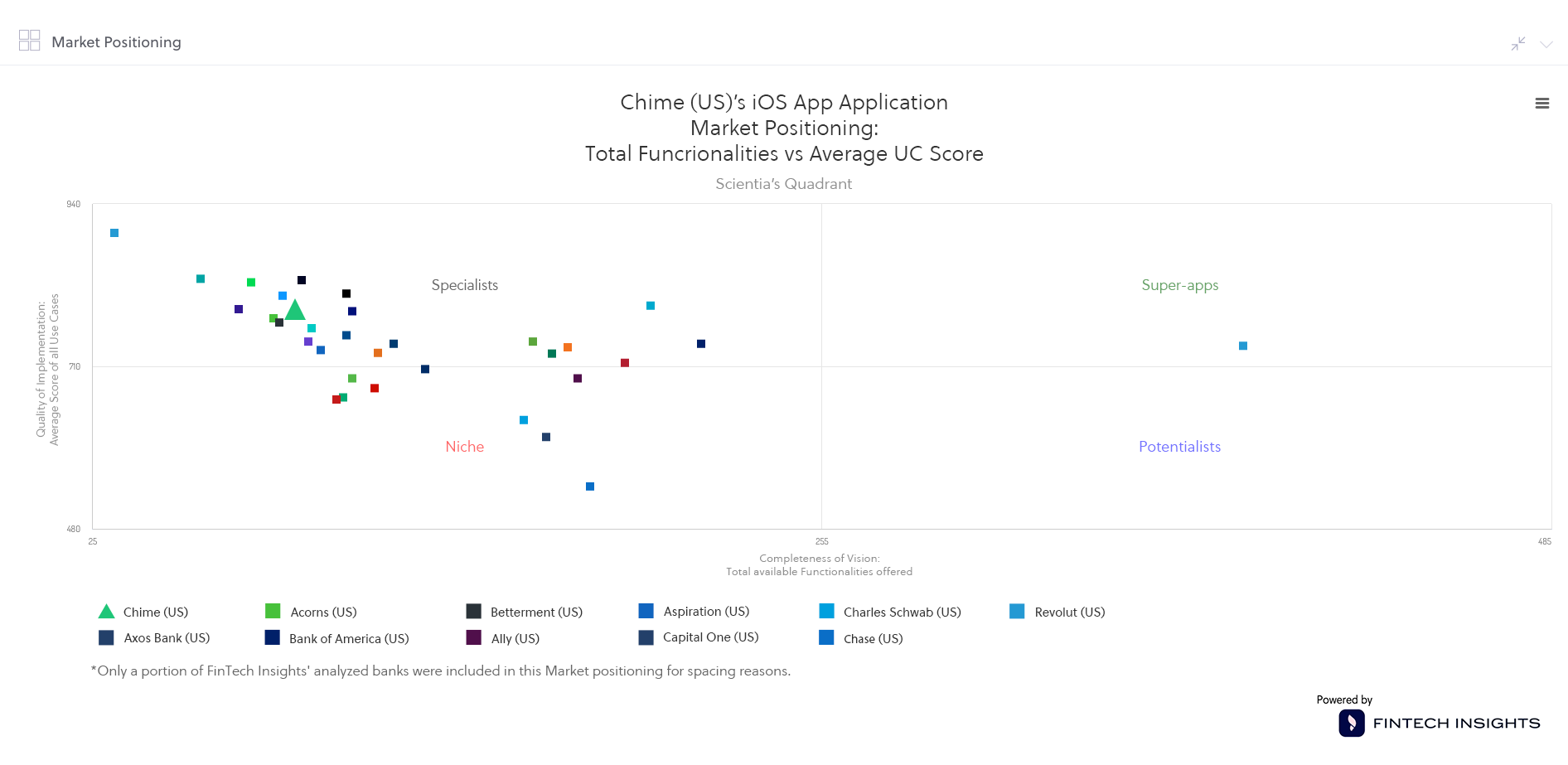 As can be seen in the above chart, the Chime app is positioned in the Specialists quadrant, a place which is awarded due to the lower number of features offered but the overall high UX-scored journeys. Most US banks are positioned closely next to Chime (Acorns, Betterment, Aspiration ) with some of them heading further right into the middle (Bank of America) and to the Super-Apps quadrant, currently occupied only by Revolut. It is well above the Niche quadrant where a few banks like Axos bank, Ally and Chase are positioned.
Innovative features
Out of Chime app's many digital offerings we selected these as the most innovative and helpful for users:
Issue a replacement Virtual Card
This is quite a helpful feature, which has been examined in detail in Battle of the Challengers US episode 2 and represents one innovative offering that few banks in the USA include in their arsenal. Specifically, customers who have for whatever reason (theft, fraud, lost) decided to cancel their debit card, they can immediately order a new one and in the meantime issue a temporary virtual card through their Chime app. With the temporary virtual they can add it into their Apple Wallet and pay online or in store till their debit card arrives.


Chatbot support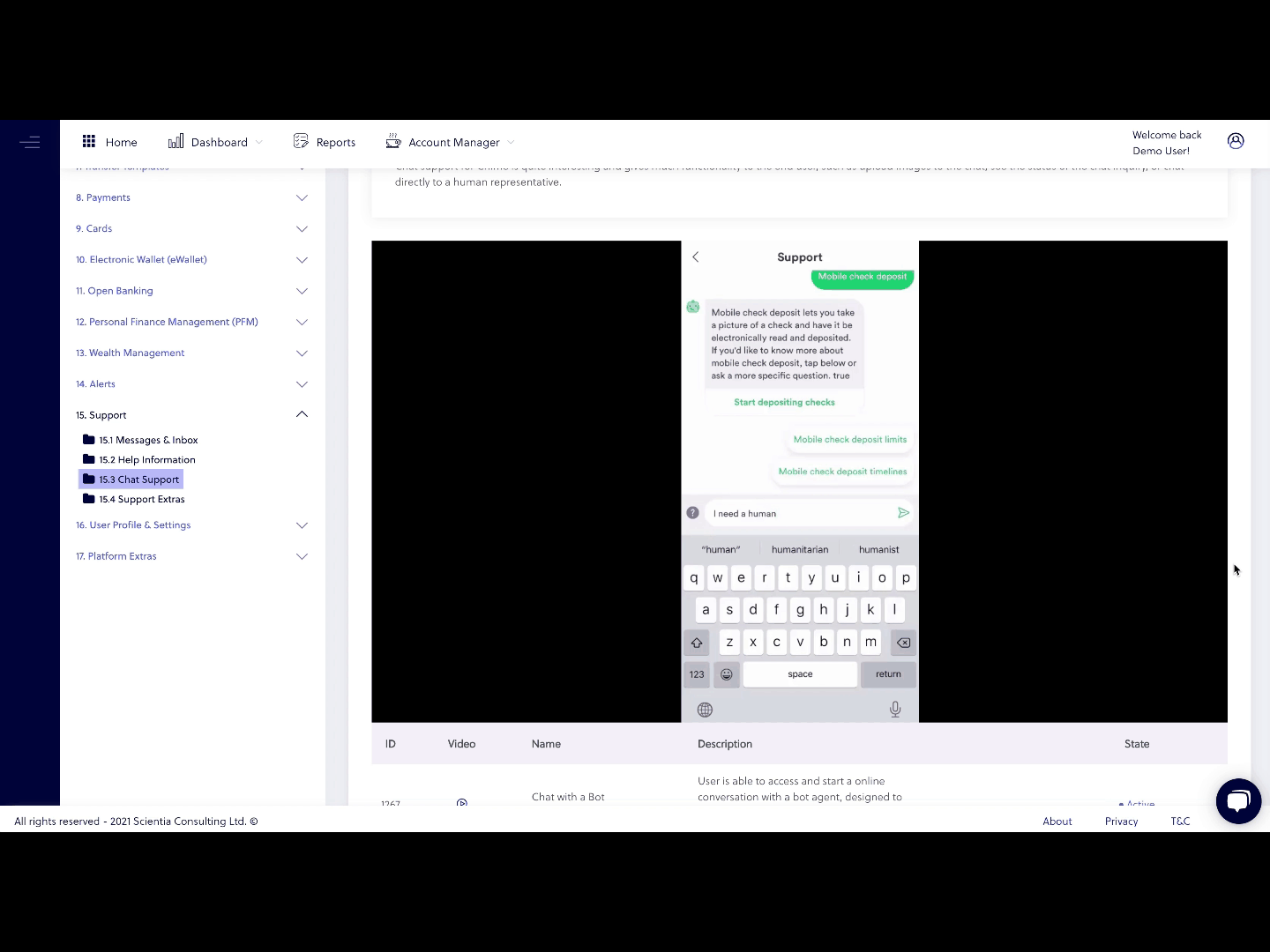 Customers of Chime are able to swiftly receive answers to their questions and be provided help on a problem through the chatbot service. They simply need to navigate to the chatbot service, write their question and they will either be given information for their question, or be directed to the section of the application where their problem can be resolved. They can, if they wish to ask to communicate with a live agent for more complicated issues.
Fee-free overdraft up to an amount
Chime offers their customers a fee-free overdraft up to a certain amount according to eligibility with SpotMe. While most banks profit from overdraft fees, Chime goes a different way allowing customers to go slightly overboard and not get charged for that, utilizing your next account deposit to repay the money Chime had spoted them. Customers after they have repaid their negative balance have the option to leave a tip so they can repay any future overdraft. How neat!
Which are Chime's 3 best user journeys?
To answer this question, we consulted our digital banking research platform's,
, UX evaluation feature. We calculate UX according to our Perfect 1000 scoring system where the highest score is 1000.
KYC-digital onboarding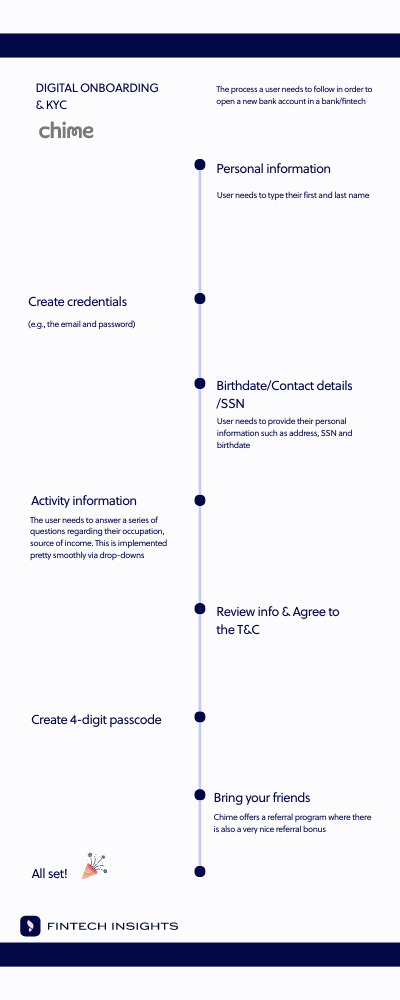 It's always a great sign for financial institutions to have a great user experience for their digital onboarding, the first point of contact for a customer with that provider. Chime app, which ranked 4th among the 13 Challengers examined in Battle of the Challengers US episode 1, has designed a convenient and swift process for its customers. To open a checking account, they simply have to follow 52 steps for a UX score of -151/1000. A smooth journey to make a great first impression to customers.
Quick payments to other Chime customers
Another fundamental user journey that is extremely important to customers is making daily payments. Chime has understood its importance and has designed a slick process where users can pay other Chime members in as few as 15 steps by inputting the recipient's mobile phone number. The process scores 784/1000 and is further optimized by saving past recipient's so customers won't have to retype their number next time.
Block/Unblock a Debit Card
In another user-friendly journey, Chime app provides customers the necessary safety feature of blocking transactions of their debit card. In more detail, customers that suspect something wrong with their card (e.g. a suspicious transaction) can block their card from use until the issue has been cleared up. Then they can unblock it in the same seamless way. It takes 9 steps for both blocking and unblocking the card – as easy as switching it on and off – with a score of 935/1000.
This concludes our first FinTech Insights Spotlight for Challenger Chime. As the Challenger with the largest customer base it stands to say that they have done a fine job in trying to understand what customers need and cater them. That is clearly evident from their position in the market as Specialists and from providing a series of very useful features with great UX.
Next month we are turning the spotlight to a UK bank: Starling!
Want to know how we know all these about Chime?
Then head to today. The platform has banks and fintechs globally exhaustively analyzed so you can always know what's new and innovative in digital banking.