Welcome to FinTech Insights Spotlight!

In this monthly blog we are examining the biggest and most innovative financial institutions worldwide and try to understand what makes them so. In our previous installment we put Challenger Chime on the Spotlight for the iOS app.
This time we will be crossing the Atlantic and landing in the United Kingdom to shed light on another impressive Challenger that has made waves since it launched in 2014. We are of course talking about Starling Bank which was founded by Anne Boden with the primary goal of serving as a digital banking current account. Since then the Challenger has exponentially grown offering more and more digital banking offerings, including green products, to its more than 2 million customers around the UK
But what makes Starling such a success story?
Through the aid of
, the digital banking research platform that fully analyzes banks and fintechs worldwide, we will be taking a look at Starling bank's:
position in the UK market
3 most innovative digital banking offerings
3 best UX-evaluated user journeys.
for the iOS application.
Lights, camera, Spotlight!
Where does Starling bank place in the market?
As can be seen in the positioning above Starling Bank stands in a unique position in the middle of the two axes. This is due to the increased number of digital features offered which accumulate an equally great UX. The bank is slowly moving towards the 'Super-apps' quadrant where Revolut reigns as the Challenger with most features and advanced UX. Closer to her on the left is another Challenger, Monzo, in the Specialists quadrant with most of the High-Street banks (HSBC, NatWest, Lloyds) positioned in the same quadrant, with many different digital offerings but not advanced UX. Only a few High-Streets – e.g., Santander, Barclays, TSB – are positioned in the Niche quadrant with few offerings and relatively less great UX score.
3 innovative features
Card Controls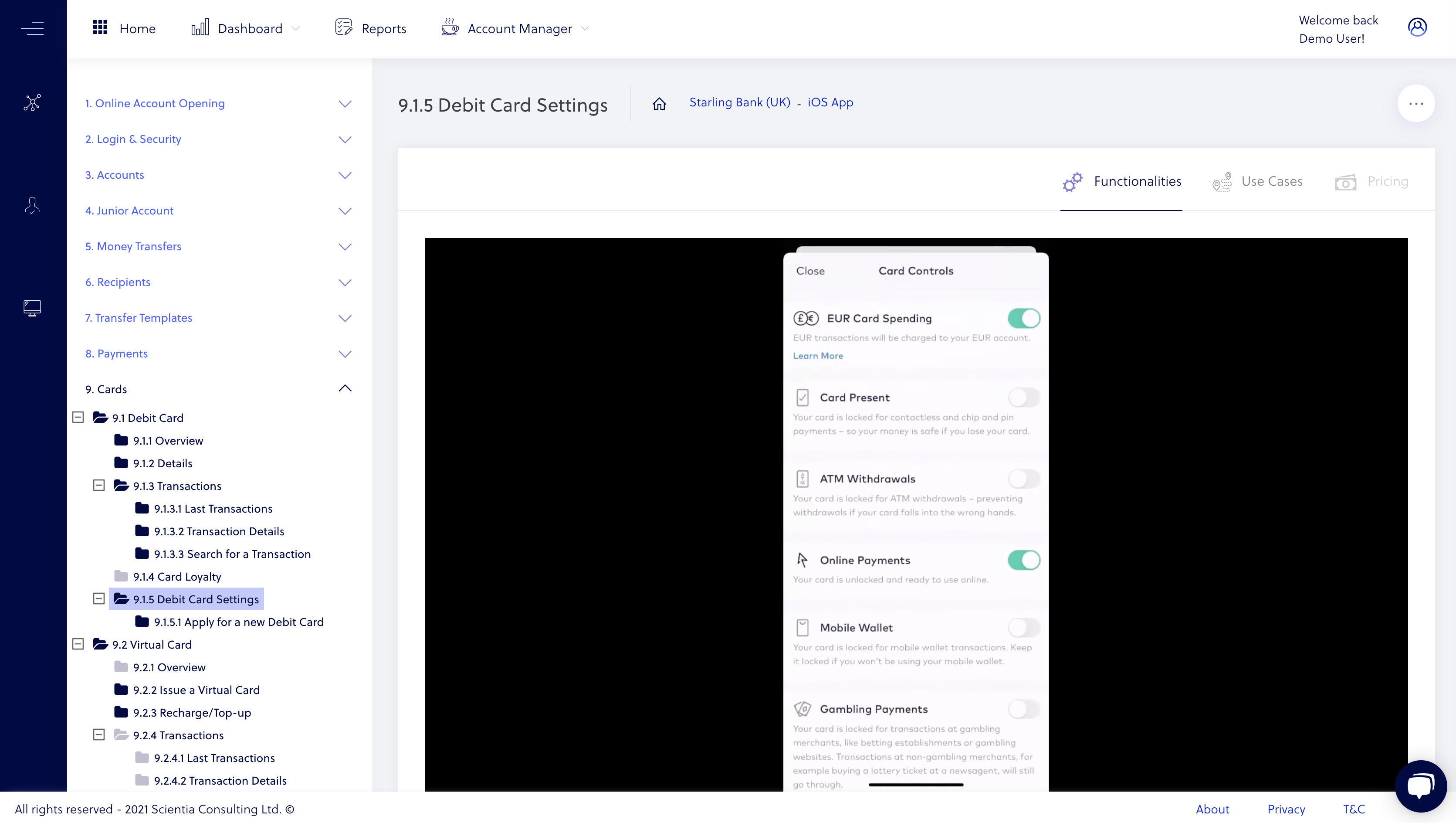 The UK Challenger offers a number of options regarding the debit card's management for customers. Firstly, customers can freeze or unfreeze their cards for any type of transaction and block and unblock elements such as the PIN or CVV. Additionally, users can opt in or out for contactless (magnetic stripe), ATM and online transactions. They can if they choose to switch off payments for Gambling purposes and or disable the debit card from being added to a mobile wallet.
One final intelligent card security feature is its Location Based Fraud Protection. With this feature, Starling bank uses the location of the users to detect the possibility if their card has been compromised. Again, customers have to decide whether they want to opt in or out of that feature.
Open a current account in Euro
Starling bank customers are privy to a deposit account in Euro. Through a simple and quick process users can open a new account in a foreign currency: Euro. Like their regular account this can be used to pay anywhere and can be extremely handy when paying with their card in any country in Europe with Euro as their local currency. These payments will be processed from the Euro account and any currency exchange between the GBP to Euro account is completed in real time according to the FX rate and in addition to 0,4% transaction fee. They can also open multiple Starling Spaces for this account, the function of which is described later on in the post.
Marketplace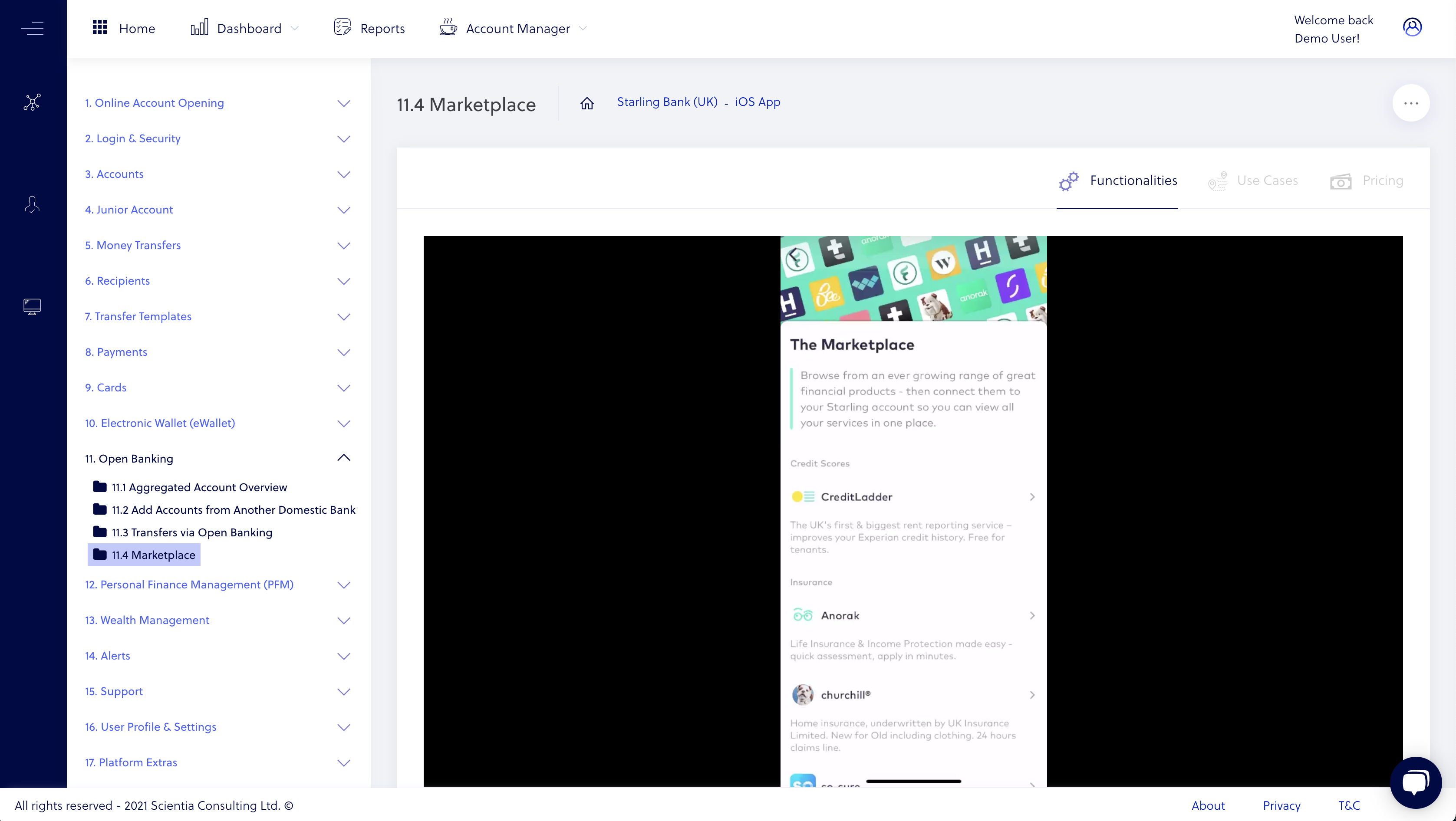 The Challenger bank provides customers a number of smart financial products which are integrated into the Starling bank app via Open banking. Customers can select and connect to the app products such as credit score calculators, insurance providers and mortgage brokers. They can also have access to saving and investment and pension tools and loyalty and receipts tools. Simply by heading to Marketplace they can access any of these products and have an overview of their finances integrated in the app, without having to navigate to each separate provider.
3 lovable user journeys
Now that we have talked about the most innovative digital banking offerings, let's talk about their most user friendly journeys.
Open Savings Account
Users of Starling bank in the iOS application can create multiple spaces:
Connected Card Space as a joint account for customers to organize spending and have someone do their shopping that they can't due to COVID-19 or other restrictions
Child Card Space for offering their kids the Challengers Junior Account card, and
Saving Spaces to save money.
In as little as 11 steps and amassing a UX score of 856/1000 according to our Perfect 1000 evaluation system, customers of the Challenger can set up a Savings account. They simply have to head to "Spaces", choose "Saving Space", set up their custom saving goal and choose how to fund it. In literal seconds Starling customers can have their own Savings account through a swift and simple user journey.
Pay Someone you know in another UK bank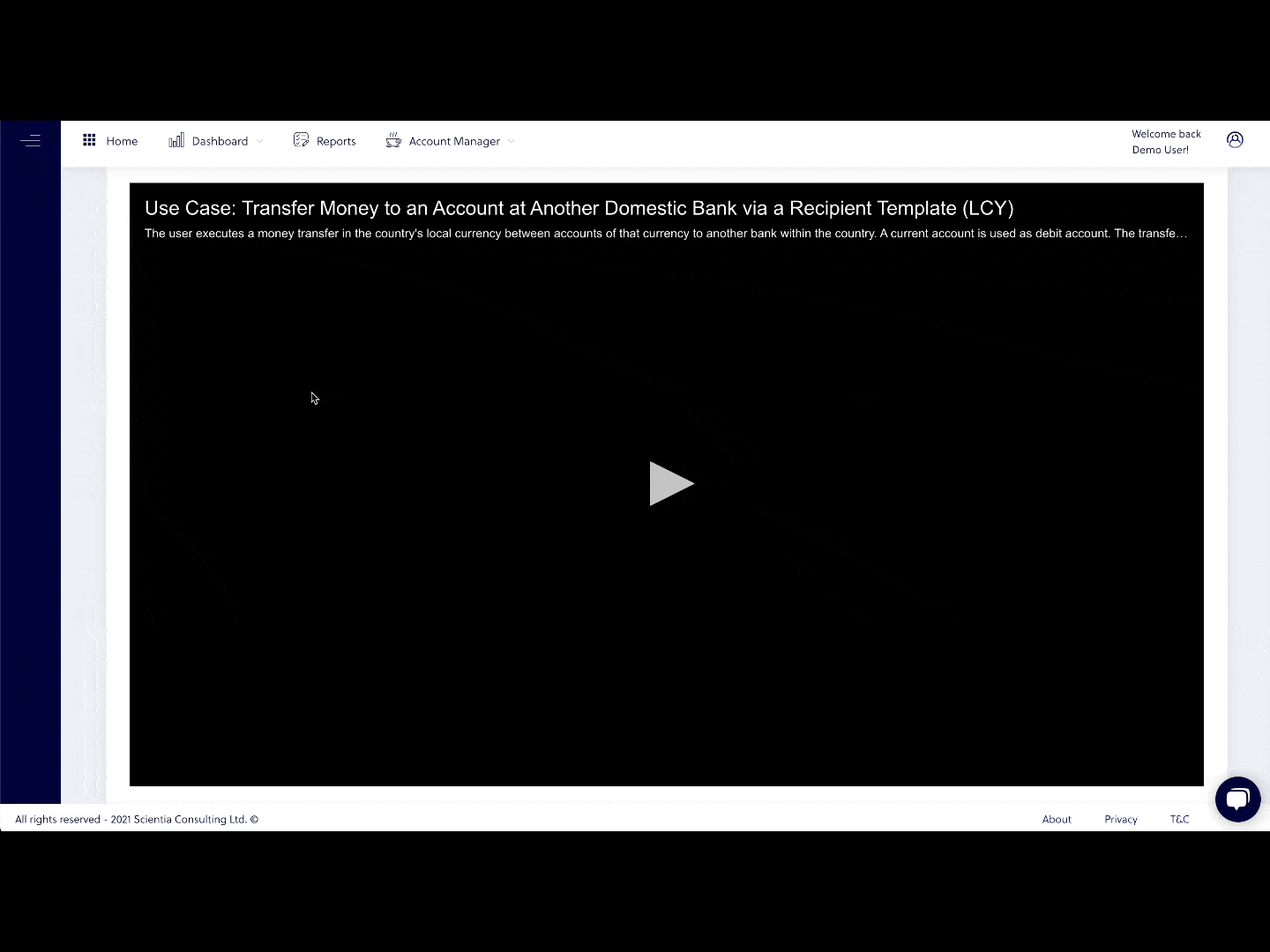 Another great user journey for Starling bank can be found in Money Transfers. Specifically in 18 steps customers can send money to a recipient they have sent money before. By navigating to Payments, then selecting recipients, typing the amount and reference for the transfer and swiping to pay they will have completed the user journey. This user journey's UX is evaluated at 791/1000 due to simplicity and convenience of the process for the customers.
Cancel & Reorder Debit Card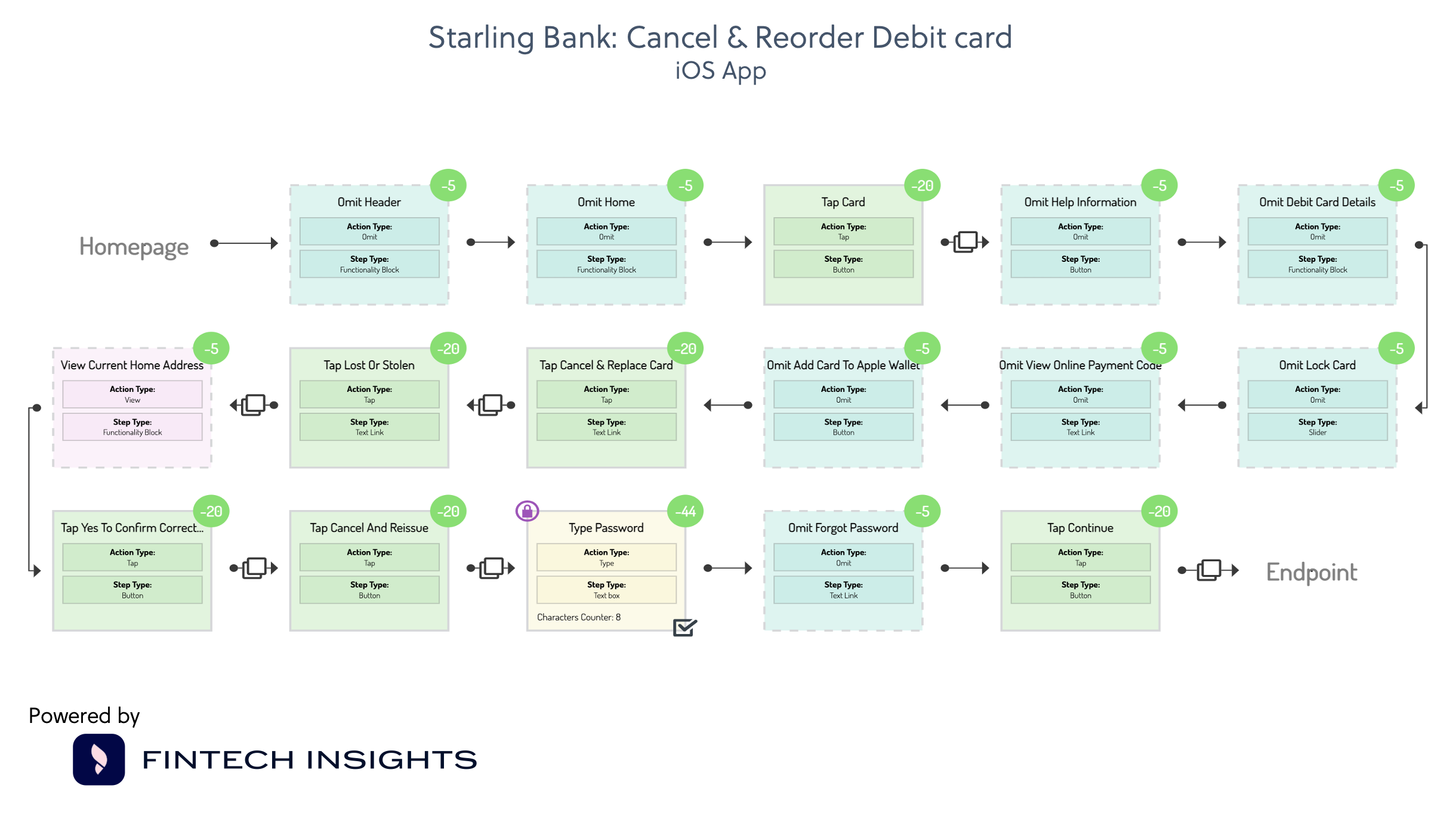 The final user journey that has been selected as the most user friendly is Canceling a debit Card and Ordering a new one. This a highly important feature to be offered as it refers to customers safety and their ability to take action and shield themselves from fraud. With the Starling bank iOS app, customers can at any moment they realize their card has been stolen or compromised, block that card and order another.
This can be completed in 18 steps through the Card controls by reporting that the card was lost or stolen and setting up the new card. The user journey score is calculated at 791/1000. Another swift and easy journey for customers extremely useful during the anxiety-inducing time of realizing that you need to block your card.
These represent only a few of the most innovative and user friendly journeys for the popular UK Challenger. Starling bank has managed in under 7 years to offer products and services that truly appeal to customers in its market. Not only that, as shown in its position it sits among the leaders of the UK market providing many digital offerings with great UX. It stands as no surprise then that it represents one of the most innovative financial institutions worldwide.
Starling bank is out. Tune in next month for our next
Spotlight: Chase.
Want to know how we know all these about Starling Bank?
Then head to today. The platform has banks and fintechs globally exhaustively analyzed so you can always know what's new and innovative in digital banking.