Welcome back everyone to another Battle of Challengers!
As you may have seen in our social media accounts, for this episode of our battles, we asked you to choose the topic of discussion. And you sure delivered!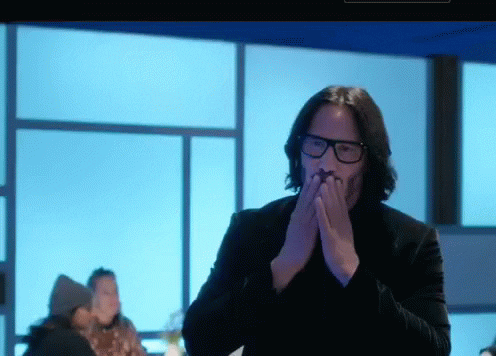 The polls were a close match, with the top finalists being "Block/Unblock Card" and "What Support do you offer?". The latter was the winner, so today we bring you the topic of support!
Thank you all so much for your participation.
*Hint: We now know which topic will be covered next*
Now let's get into it!
Why do I need your support?
Challenger Banks, by definition do not offer branches where customers can come and receive help from Bank representatives. So they needed to become extremely smart with how they solve this problem in their early stages of development. Without the ability to see a human and talk to them face-to-face, you have to come up with various innovative solutions to overcome the uncertainty and fear of trust one may have from an internet Bank — a Challenger, knowing that you cannot come in direct contact with a human working in one of them.
Another problem lies with Challenger Banks and how important having customer support is. That is, Challenger Banks often are completely different in both looks and how they operate than Traditional Banks. So we find it completely justified that an average user will have a lot of questions and even become perplexed when trying to navigate through this new world of digital banking services. And this is why having excellent support is so important.
Even the team at Scientia, and our team of
analysts, who have seen hundreds of screens of digital banking — from the most common to the rarest banks across the world — often result into the support section to get much needed help.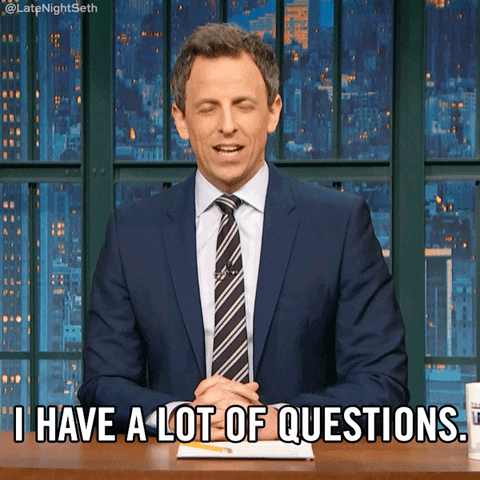 COVID-19 proved to be the biggest test when it came to whether the Banks were able to handle social distancing and an endless amount of customer enquiries. McKinsey & Company in their article about Banking customer experience amidst the COVID-19 period states
The economic consequences of the coronavirus will increase the need for banks to improve efficiency and the customer experience. They can do so by enhancing digital self-service as well as by making operational trade-offs.
Challengers have done so efficiently for many years now. They have enhanced their digital experiences and more than that offer a variety of services when it comes to customer support.
Analyzing the support
Now this Battle of Challengers will be a tad different. This time we will not focus on the User Experience so much, rather on the offering and if that offering actually works!
So we will go, Challenger by Challenger and list all the different ways they help a user. Some of them are innovative, some are most commonly found, some just don't work and are quite the opposite of helpful.
Since all our contestants are Challenger Banks, we will focus on their iOS channel. It makes sense since most of them are mobile first. You can find more information about how we make these Battle of Challenger in our intro post.

Monese offers great support overall. In general they offer 9 Functionalities under the Support category.
Here are the main ways you can get help from Monese.
View Support Documentation
Monese has organised a very nice Q&A section within their digital banking app with various questions one may get. Their answers are always detailed, and there is even a search feature to use, so you can directly find what you need.
Monese offers chat support with both a bot agent and a bank representative. It is no wonder that chats are in general favored over any other form of communication, especially in the last years, like SuperOffice states as well. It is also very nice to, apart from having bots answering your customers' enquiries, get them direct access to a Bank's representative. It further enhances the experience of the customer and acts as another pillar of trust for them. Talking to George, rather than HelpfulBot is always better.

Monzo offers one Functionality more than Monese, coming at a total of 9 for this category.
View Support Documentation
Just like Monese they also offer a very nice and detailed documentation, in the form of a Q&A for their user. We also find it very nice that they have Features of their digital banking within this help.
For example, when we went looking on how to reset our Card PIN, apart from the help they provided there was also a button which took us directly to reset our PIN.
Throughout their application, and in almost every single user action, Monzo has small pieces of helpful information, guiding you along the way on any action you want to take. This is really nice to have, unless it becomes too big and even distracting to the user.
Monzo uses bots as an initial contact, but in case there needs to be further assistance, it directly connects you with someone from the team. Again this is great to have as a user can actually attach a name and a face to this chat.
Monzo really takes their support game a step further. You see they have built an entire community of Monzo users, and they talk about news, updates, news, making Monzo better.
They are really building Monzo for their users, with their users.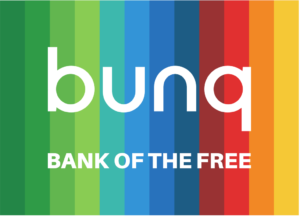 bunq comes second in who offers the most Support Functionalities, with 12! Let's see what they offer!
Chat Support (Bank Representative)
bunq offers a very nice chat/messaging support system. For starters they can match you with one of their representatives that talks in your native language! Their chat is enhanced with recommendations in actions you can take based on your enquire as well.
View Support Documentation
bunq offers a nicely organized and detailed documentation as well.
It is widely known that bunq is very close with their customers, always trying to cater to their needs, as we have also seen in our previous Battle of Challengers. We find it exceptional that they directly allow their users to have a say on how they wish to shape their digital banking!
bunq's community is as equally amazing as Monzo's. They keep their customers updated with new releases, updates, features and even bugs! A wholesome community!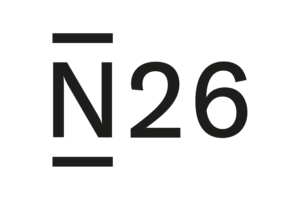 N26 offers 6 functionalities.
View Support Documentation
N26 offers great support documentation, covering almost anything you might have a problem with. There is a small problem though, which is you cannot search all these FAQs. Which means you have to go through scouring all their pages to find what you want.
N26 also offers small pieces of help in various places throughout digital banking, in order to make their users understand every feature they offer and how.
Chat Support (With Verification)
N26 has structured their chat support in a very smart and efficient way. For starters they prompt the user to verify themselves, using the paired device as a security method, and then they initiate a chat with the bot. In case you want to chat with a bank representative, you can simply ask to and select the reason for your enquiry. After that N26 connects you with the appropriate representative.

Revolut offers 11 functionalities.



Revolut follows the same logic as Monzo when it comes to small bits of helpful information that the user might need. So throughout their digital banking, especially in features such as Money Transfers or Cards, Revolut offers helpful advice.

One feature which we found extremely useful, is that Revolut offers commonly asked questions/problems, in the details page of an executed transaction.

For example if you wish to dispute a transaction, you don't have to visit their Help Center, you can easily do so right from the transaction itself!
View Support Documentation
Revolut Metal has an entire Help Center, where they have answers to problems that may arise under each category. You can search if you want anything specific, for example if you have a problem with one of your Accounts, a simple search with that will show you all related help.
Chat Support (With Verification)
Revolut has implemented a lot of nice features into their chat support systems. For starters you can choose whether you want to talk to a bot or you would like to talk to a bank representative.
Also, once you start the conversation, the chat will prompt you with any questions you might want to ask.
At the end of your chat, everything is saved in your account, and you can return to your conversation at any time you wish, or even generate the chat script in PDF form.
The community of Revolut is a big one! Revolut has lots of loyal fans and they all love getting involved in the development of their favorite Challenger Bank. Just like bunq, in Revolut's community one may find all the help they wish, report any bugs, give feedback and find out if any new updates have rolled out. Overall it's a wholesome experience for a customer.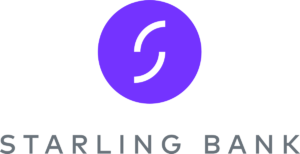 Starling actually offers the most functionalities (14), based on FinTech Insights. Let's see all the ways they provide help and support to their customers.
Starling allows their users to send them messages disclosing any problem or inquiry they might have. Which is great in case you are not available for chatting or talking to the phone. They are quick to respond and always offer great help. The user gets notifications for any unread messages. All the conversations are grouped, so that the user can go back and read any messages they want, at any point.
Starling has helpful information for the user along every step they take. They explain all processes in detail, without becoming intrusive and causing friction. One may say they have found the silver lining between helping and overwhelming the user with information.
View Support Documentation
A trend amongst all our Challengers. And a right one. Starling also offers support documentation, where a user can search and find answers to any topic they wish.
Chat Support (With Verification)
When it comes to chatting in Starling, they get you connected directly to one of their back representatives. As soon as you initiate a chat, you are connected with one of their team members. You can also export your chat conversation, in case you want to have it and revisit it.
The Final Ranking
Based on our comprehensive platform, FinTech Insights, this is the final ranking of our Challengers, in terms of how many Functionalities they offer in the Support category.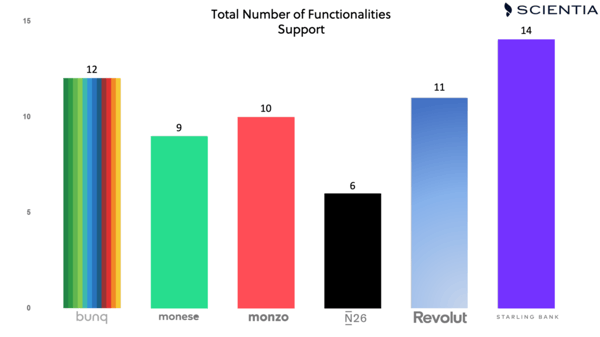 Our winner is Starling!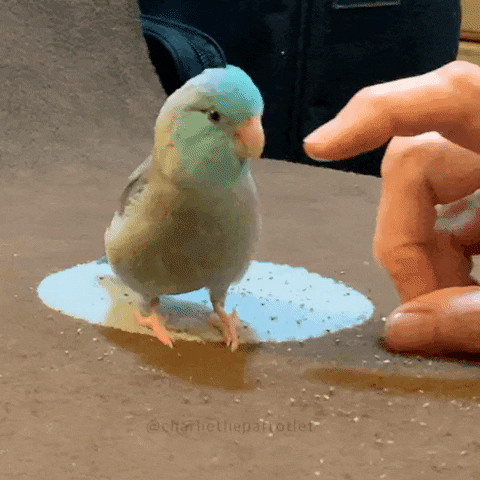 Starling has implemented the most functionalities and offers the most when it comes to how many different ways a user can receive support. Which is great because we see how much a bank values their customers! We are sure that amidst COVID-19 all Starling users received all the help they needed!
The bigger picture
In our previous posts, the winner was clear. The Bank with the higher UX score, got first place in the podium of Digital Banking. This case though, is different. Of course it would be easy for us to pick Starling as our winner, and in terms of who offers the most, they are the winner. Yet offering the most is not always good, or doesn't make you the best and here's why.
You may offer very few functionalities, but deliver top-notch service and be 24/7 next to your customers for anything they might want. On the other hand, you offer plenty of ways for a customer to reach you, but some of them may not work properly. Or you may be that amazing Challenger that is able to combine both.
For this reason we are going to give you a clear winner: Starling who was able to accumulate plenty of solutions in their support. We also want to congratulate Revolut, bunq and Monzo who were able to build these incredible communities of customers, that have also become loyal fans of their services. The transparency into their digital banking services is what makes their customers trust them. The fact that me as a customer can go in the community and report a bug or a problem, and people are going to not only acknowledge it, but rush to help is one of the reasons why we are facing digital disruption.
Banking no longer feels as constantly being told what to do and having no options or opinions. Now there are communities of people, decision makers who voice their opinions about who they wish to form their everyday banking, and calling out mistakes and problems.
, and the entire team is constantly monitoring this disruption, with always up-to-date and detailed analysis of digital banking worldwide.
You can monitor this disruption first hand and be ahead of the curve as well. Book and find out how.
More battles:
Here's the US edition