One of the many perks of working in the team of FinTech Insights, is taking a look at banks from all over the world. More than that, our team of analysts always tries to un-surface new diamonds in the rough—neobanks!
Apart from discovering new, up and coming challenger banks, we also have the perks of analyzing them, which means acting as their customers, documenting every single feature they offer, as well as analyzing exactly how they offer it.
And since we really enjoying discovering new fintechs—and get excited over all the new debit cards that will be arriving—we thought it would be a great idea to compile all these neobanks that we think deserve a lot more traction. We'll talk about what they have been getting into, showcase them and tell you why we think why you should give them a try!

Let's start with the first bank we came across and fell in love with: Blackcatcard.
This neobank is centered around a black cat as their main logo and aesthetic.
They follow this pattern, of the black cat, in their UI implementation at various parts inside their banking. For example, we came across a black cat strolling through our screens while navigating in the application or playing with a ball of yarn!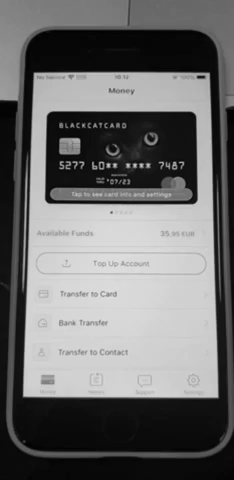 Now here are some perks that come with opening an account in Blackcatcard:
You can select from a variety of cryptocurrencies to buy or sell. More than that, you get a unique QR code through which you are able to send or receive said cryptocurrencies.
You can also open a Junior account, and since the team of Blackcatcard stays true to their aesthetics, the Junior account comes with a Debit Card featuring a kitty on it!
It may not offer a lot of features yet, but for the ones they do offer, they have implemented everything pretty efficiently and smart. For example you can top-up your account either by scanning a code, card or finding your nearest PayPoint.
If at any point you need help, you can always chat with one of their bank representatives.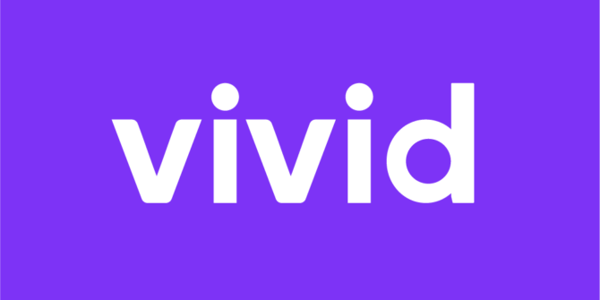 This new, and very purple, challenger bank from Germany, relies on Solarisbank for their banking infrastructure.
We came across them and instantly fell in love with their incredibly pretty purple card!
Among the
team, we have an ever growing Debit Card collection, and this was a great addition to it.
Now let's see why Vivid make us add them to this list of "challenger-banks-to-watch-out"
Their Debit Card. Yes, their Debit card is amazing, and metal! It is elegant, and a really nice addition to anyone's wallet.
Stock rewards: Vivid does not offer any Wealth Management features yet, such as buying or selling stocks/cryptos/commodities, but they can link your savings account to a company stock, and the earnings will be automatically transferred there. Or you can get them on Cashbacks.
Cashbacks: Vivid money has managed to obtain very interesting Cashback rewards with some of the most famous companies, for example Steam, Amazon Prime, Kindle, Playstation or Netflix. These Cashbacks, on services that we ourselves either use, or someone from our family, makes the users want to use this bank even more. Who wouldn't?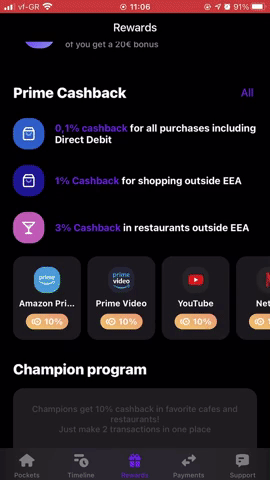 Vivid allows their users to send money using just a phone number. The third party can access this amount via a payment link, and both parties get a bonus.
In general the way they have chosen to build their UI is highly elegant and simplistic. I think it would appeal to a very large audience.

Fintech Lydia is well known in France as the next Venmo or Square Cash, tech crunch reports.
And it's true. They offer a wide flexibility when it comes to opening accounts as well as transferring money between those accounts.
Here are some reasons to take a look at Lydia today!
Simple and easy navigation. Lydia said au revoir to complex mobile banking and made things as easy as they get. With a very minimal and straightforward approach to the layout of their UI, they offer users an easy and fast way to bank.
Easy transfers/requests. Lydia makes it easy to transfer money from whichever account to anyone you might want. Recently they also introduced transfers via Bluetooth. Smart and innovative, we approve.
Link your Card: If you do not wish to get another Debit Card from yet another bank, Lydia gives you the option to link an existing Card to any of your Lydia accounts.
Create a shared account using the contact information of an existing Lydia user. Then each one of you can contribute anytime they want towards this account.
Tomorrow, like Vivid, comes also from Germany. Their aesthetic is over the roof! The color palette they have chosen, as well as from their web page to the entire UI of their digital banking looks like a Paul Gauguin and Vincent van Gogh painting coming to life.
Apart from the fact that you should become their client just so you can experience this great artistic experience, here are a few other reasons:
This Smart Payment app has a vibrant orange presence which reflects its dynamic presence and innovation that drives them.
You may come across it as one of the much preferred payment options for online gaming and various online gaming platforms such as bwin or PokerStars. But even if you do not intend on using it for gaming reasons, you should definitely give them a go, and here's why:
Easy and fast P2P payments. And to anyone, from friends and family to a merchant! No more typing of IBANs and account numbers.
For every invite you send to a friend, you get 5 € back as a reward.
They have a MegaDraw, which you can participate in by...well using your bank account. From top-ups to charity donations, to sending cash via P2P, you can earn points which will account in the MegaDraw and you could be a lucky winner of 60.000$.
If you have any ideas or suggestions, you can actually contact them to the Much Better team. So your voice truly does count in this payment app!
Have you checked any of these banking apps yet? Are you a customer of any of these Banks? Or are you willing to give them a try? Let us know in our social media accounts.

We are happy to write about more of these in the future. After all, we are more than happy to share innovative ideas and apps!

Now if you think you should be featured, reach out to us and let's discuss your banking application!

Or if you wish to see yourself or any of your competitors analyzed, as well as see how you compare to them book
!