Sustainability is no longer a strategic decision in banking. Climate change is at our doorstep and banks worldwide must consider an environment-friendly approach to their processes. It should no longer be just a matter of choice for financial institutions to adopt a climate-first approach for green banking.
Many banks have already begun integrating sustainability into their business operations by responding to environmental, social, governance concerns (ESG). Almost half of the global banking industry (300) have adopted the Principles of Responsible Banking. This is a framework which aligns signatory banks' sustainability strategy and practice with that of the society according to the Sustainable Development Goals and the Paris Climate Agreement.
At the same time, the demand for green banking products is expected to reach new heights in the next few years. Younger people, which soon will represent the majority of the adult population and thus the future customers, are advocating all the more loudly about green initiatives, green products, and green processes.
With that in mind and the International Forests and Water day, the team of
compiled a list of a few banks worldwide that have launched green banking initiatives. Customers of these can protect the environment and fight climate change while conducting their daily digital banking.
Starling bank

Starling bank's 4 steps to their referral and tree-planting green initiative. Source: Starling bank website
Starling bank is completely branchless, paperless, running on 100% renewable energy and as of last week offers 75% recyclable plastic debit cards. Besides that, they provide customers the chance to participate in the Plant the Seed initiative. The UK bank has partnered with Trillion Trees, a non-profit conservation organization to fight deforestation and re-grow 1 trillion trees by 2050, to provide a referral scheme. According to this scheme when a Starling bank customer refers the bank to a friend, and that friend joins the bank, Trillion Trees will plant a new tree on its way to make the planet greener. Concerning other initiatives, Starling has also supported the summer 2021 Secret World of Plants programme at the Royal Botanic Gardens, became a sponsor of the Seat at the Table Youtube documentary in 2021, depicting people at the frontline of climate change and since July 2021 has been supporting Instavolt in accelerating its efforts in green transport.
Why did Starling bank choose to plant trees?
"Trees are one of our best defences in the fight against climate change, because they absorb the carbon dioxide that causes climate change."

Starling bank
Treecard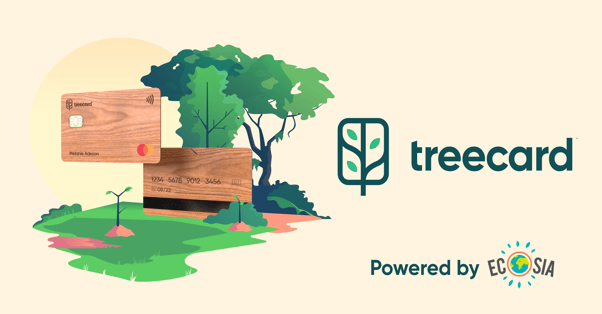 Source: Treecard website
Another bank that promises to protect the environment is TreeCard. This bank has captured our attention with its commitment to reforest the planet through its digital banking offerings, all while using a planet-friendly wooden card. 80% of the bank's profits go towards the reforestation project. The bank has partnered with the tree planting search engine Ecosia, who have planted over 120 million trees worldwide. Every 50$ a customer spends in their daily payments will be translated into a new tree planted, while they are also able to earn a range of environment-first rewards.
Why plant trees?
"Trees are not only the most effective carbon capturers we have on the planet, they also help to restart water cycles and restore drylands, preventing the spread of deserts."

Treecard
Aspiration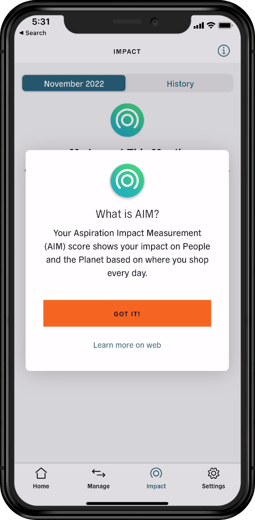 See the impact of your spending in the Aspiration app. Source: Aspiration app
Customers of Aspiration, can make a difference through an Aspiration Spend & Save Account. All their deposits are fossil fuel-free and customers can opt in to support the Plant Your Change organization by turning on the feature in their account. Plant Your Change battles climate change by planting trees. The Aspiration Plant Your Change feature rounds up customer's debit card purchases to the nearest whole dollar. The rounded up amount goes towards a large fund to plant trees. They are debited from their customers card, while customers receive a notification about the number of trees that will be planted with their help. With every customer swipe, the bank commits to planting a tree. And what's more? Customers receive cash rewards for their help planting trees.
Additionally to debit cards, Aspiration also offers the Aspiration Zero Credit Card where the card itself is made from corn-based PLA, material that has a smaller carbon footprint than traditional cards. Moreover, they offer to plant a tree with every purchase that clients who use this card make. Lastly, there is an award of 1% cash back on all purchases every month a customer goes Carbon Zero. One more feature offered by Aspiration is the Aspiration Impact Measurement (AIM) where customers are shown their personal sustainability score based on their purchases, and the Planet & People scores of shopping points, so customers know which businesses are good for the environment and their employees.
Why partner with Plant Your Change?
"Aspiration has launched the Plant Your Change program because recent studies have indicated that planting trees is one of the best ways to combat human-caused climate change."

Aspiration
bunq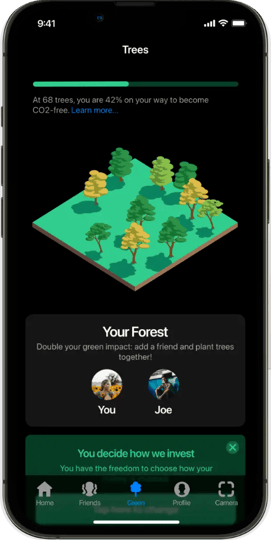 bunq' Easy Green. Source: bunq website
The Netherlands-based bunq is another EU-based bank that provides green banking products to its clients. Through the Easy green monthly-plan, customers can go carbon neutral in 2 years and apply for the bank's greenest, longer-lasting Metal card. Additionally by paying through that card, when they spend 100€ a tree will be planted with the help of their partners, Eden Reforestation Projects making the world a bit greener. Additionally, every time a friend is invited and has accepted the invitation to plant trees, the user collects 10 trees to be planted. Another feature added by bunq is the ability to create a Green Tribe to plant trees together with your friends, while also being able to compete with other tribes over who has planted the most trees.
The importance of tree planting
"It's up to all of us to make a difference and help heal the lungs of our planet – so we decided to take action!"

bunq
Tomorrow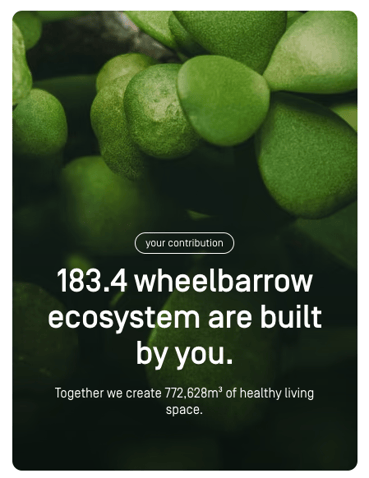 See how much of the climate you have protected. Source: Tomorrow website
Tomorrow bank, based in Germany, offers their customers, apart from artistic card design, the chance to contribute towards climate protection. With every euro paid through their Tomorrow card they protect 1m² of rainforest. How do they do that? When customers pay in a store or online, the shop owner is required to pay a small transactional fee to your bank, the Interchange fee. Tomorrow invests the largest percentage of this fee to projects that supports reforestation. Tomorrow also grants the capability to customers to round up their everyday payments to the full euro, allowing them to donate small amounts on a daily basis towards climate justice. Customers are also able to monitor and understand their overall impact.
Why rainforests?
"Trees absorb CO₂ from the atmosphere and store them in their trunks, stems, leaves and roots. Because of their great amount of biomass rainforests are especially important. They store a lot more carbon dioxide than our temperate forests. That's why they are so important for climate protection."

Tomorrow
Flowe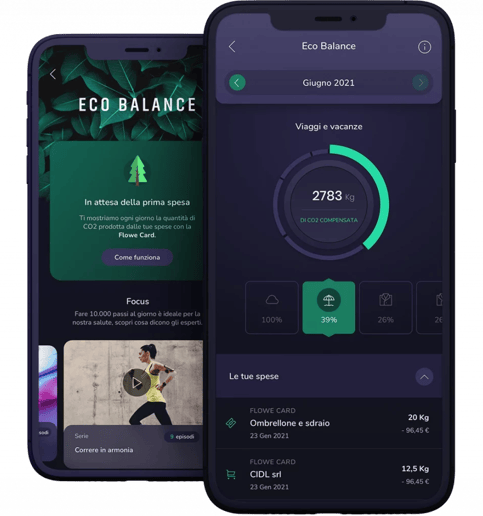 Estimate the CO₂ produced by your expenses and compensate for it. Source: Flowe website
The Italian bank directly provides customers with the ability to battle climate change by dedicating a tree with ZeroCO₂ to customers when they apply for a card. The Flowe card is wooden and designed to be in par with strict environmental standards. When a customer requests one, a tree is planted in their name in Guatemala to offset the CO₂, while financially supporting the local economy and nutrition of families. In partnership with climate-impact fintech Doconomy, they measure customer CO₂ production from their expenses with Flowe Card Mastercard. Not only that, but they also try to compensate that through supporting climate protection projects that promote reforestation. And this is only one of the ways this bank has been helping protect the environment, counting more partnerships with organizations worldwide.
We are beyond thrilled to be seeing such green initiates. These show that banks go beyond pledging to contribute to climate preservation. But they are actively trying to include and encourage customers to participate in shielding the environment. Protecting our planet is everyone's responsibility.
Banks have an important role in enabling change and amplifying their voice towards climate protection. Their aim should not be just compliance to ESG, but spreading awareness and providing means for customers to act through their banking. We are hoping for more banks worldwide to follow in the footsteps of these banks and launch new green initiatives.
Explore
and discover how to make your digital banking stand out!
This article was originally published on March 23, 2021 and was updated on November 7, 2022.