A month ago, to honor the most intuitive and helpful digital banking features that help customers, we launched Digital Banking Features that Matter. It is a monthly category where we showcase features offered from fintechs and banks worldwide
On our first blog in June we discussed Subscription Management; the feature that enables customers to manage their subscriptions to various platforms (e.g., Amazon, Netflix) in one place, their digital banking application.
This month in our Digital Banking Features that matter we will be focusing on a feature that is the cornerstone for having satisfied customers and building brand loyalty loyal customers: Support. To narrow down this category we will only be discussing the features that fall under this category for digital channels of Desktop, Android and iOS apps. For that reason we will be excluding customer phone support and any bank or fintech's webpage.

The importance of Support through digital banking channels
While the heavy load of support is currently placed on face-to-face contact in branches or via phone and live agents, the importance of support features through digital channels and chatbots should not be waived aside.
Support through a digital banking mobile application or desktop is the front line to helping customers with simpler and easier every-day tasks. Through a chat bot integrated into the digital banking capabilities or FAQs and documentation customers could be guided through completing easy daily banking tasks.
For example, if a first-time user wants to conduct a transfer and doesn't know how, they can ask a question at the chat or help section. Then they will be shown a helpful answer which can direct them to the relevant part of the application or platform where that can be completed. Alternatively they could be presented with a guide on how to complete that user journey in the FAQ section or through documentation they can access through their app. Instead of needing to call an agent to be guided throughout a process or to be given a solution to a simple matter, they can find that in the chat and avoid waiting in line.
Documentation (blogs) or FAQs can be another educational source for customers. Simply by navigating to these sections they could access articles and short lessons about different financial topics from simple saving and budgeting tips to more complicated information about investments, stocks and cryptocurrencies.
Besides being convenient for customers with questions that require simple answers, chat (with bot or an agent) and FAQ sections can help reduce the volume of customer calls for live agents. By serving customers through the digital banking platform for simple needs, you can avoid calls that can be resolved in seconds. This means that both customers are served quickly and won't have to wait in line, being happier and more satisfied with the service and agents are not confused by the excess number of calls and can focus on customers with more complex needs.
Digital banking support features
Live Support
This feature category includes support that happens in real time. What we mean is Live Chat with a Bot Agent or a Representative. Live bot Chat refers to a conversation between a customer and a bot based on scripted or not questions and answers. Chat with an agent requires the presence of a customer agent and might be based on pre-written questions and answers.
Offline Support
This category refers to Offline Messages sent to and answered by bank representatives in the manner described above. It also includes banking documentation like how-to articles, community blog posts, FAQ and search bars for either navigational purposes for simpler questions or for educational.
Let's dive deeper into all these Categories
Live Support
Chat bot
Chatting with a clever bot agent can help users with basic requests and be offered guidance on how to do things in the e-banking, such as how to freeze their card or how to send money to another user.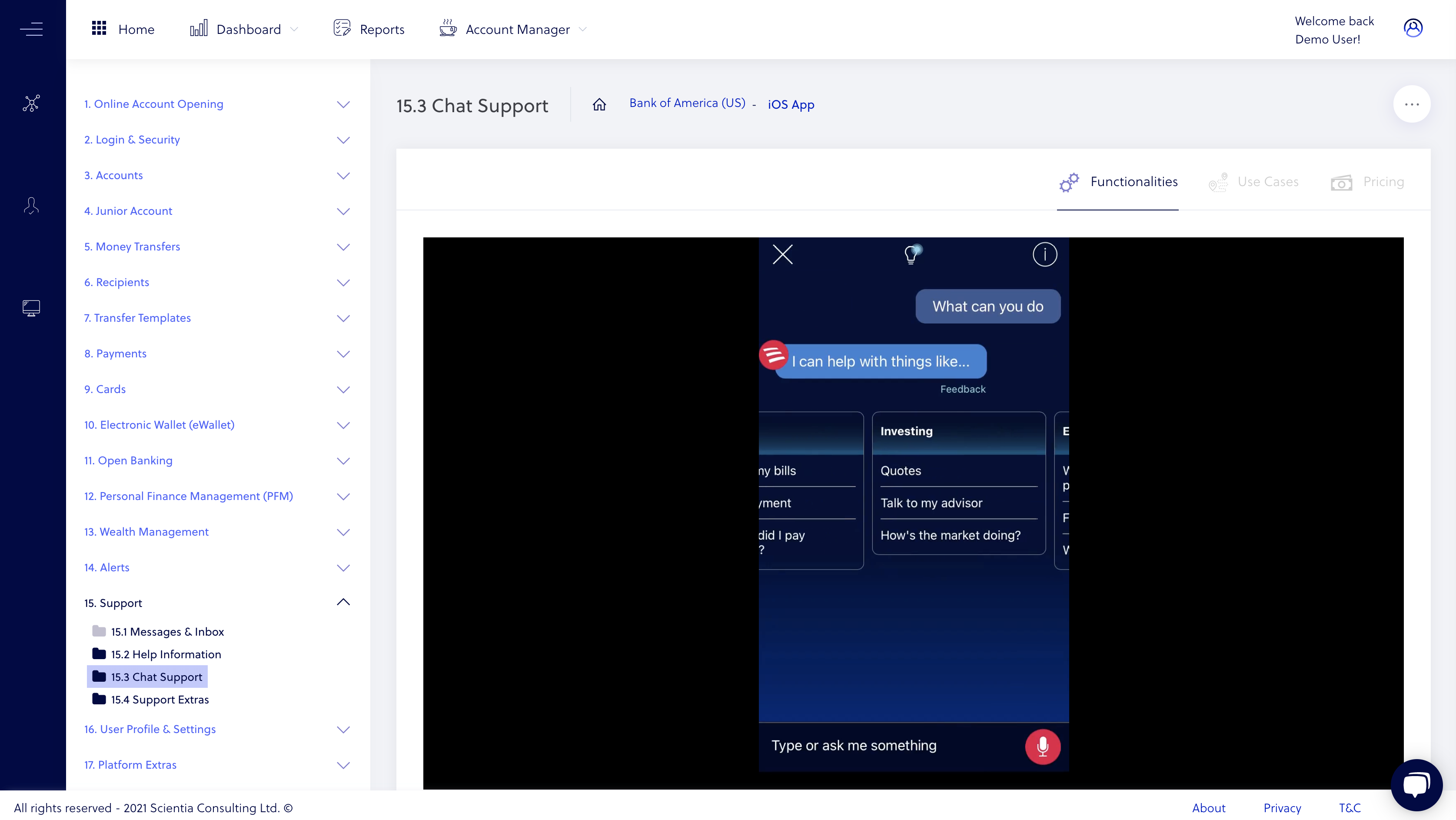 Erica chat bot support in Bank of America iOS app.
According to the bot's complexity and level, the tasks it can perform vary from bank to bank. For example, Bank of America's bot agent named Erica can perform a hefty amount of tasks, such as:
View and Pay Bills
View Quotes and How's the Market going Today in Investing
Balance forecasting & Accounts/Credit Cards Balances
Money Transfers (View Scheduled, Send, Request)
Transactions & Cheques Statuses
Spending & Budgeting (View, Create, Manage)
Card Controls
An intuitive and well structured chat bot can become a very handy tool for users in their everyday lives when they require help with a few relatively simple tasks.
Chat with a representative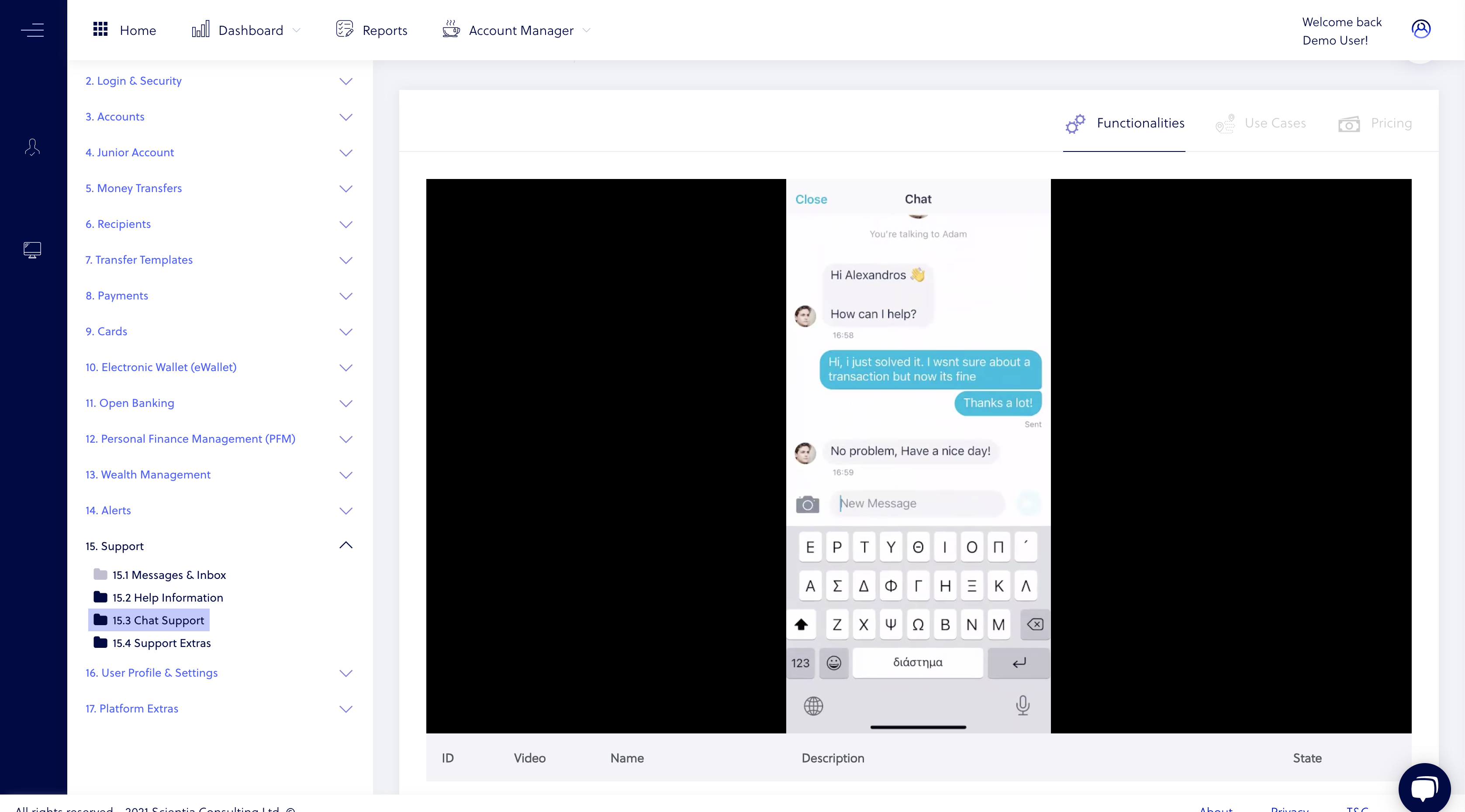 Chat with a representative in Monzo iOS app.
When chatbot agents are unable to help or even are not offered by the bank's e-banking, the chat with a real representative is the next most desired feature in support. Although bots are great at dealing with easy inquiries, more than usual the human element is necessary because of the nature of the product itself (customer money and savings).
Chatting with a representative adds this longed-for element of human connection and personalization that makes customers feel their needs are prioritized and cared for. From live chats with agents more complex issues with e-banking can be dealt with, including blocking a transaction, ordering a new card etc.
However, it could mean that customers might have to wait some time for an available representative, like with phone banking. This wait time all but increased during the pandemic due to branches shutting down which meant people had to wait for hours to be served. To ease customer tension and let them know how long they would have to wait, a few banks incorporated a queue number. This way customers can know how long it will take them to be answered.
Finally, the rating of the conversation feature is another excellent way to ensure that live agents will continuously be trained and strive to offer high quality services.

Offline Support
Offline Messages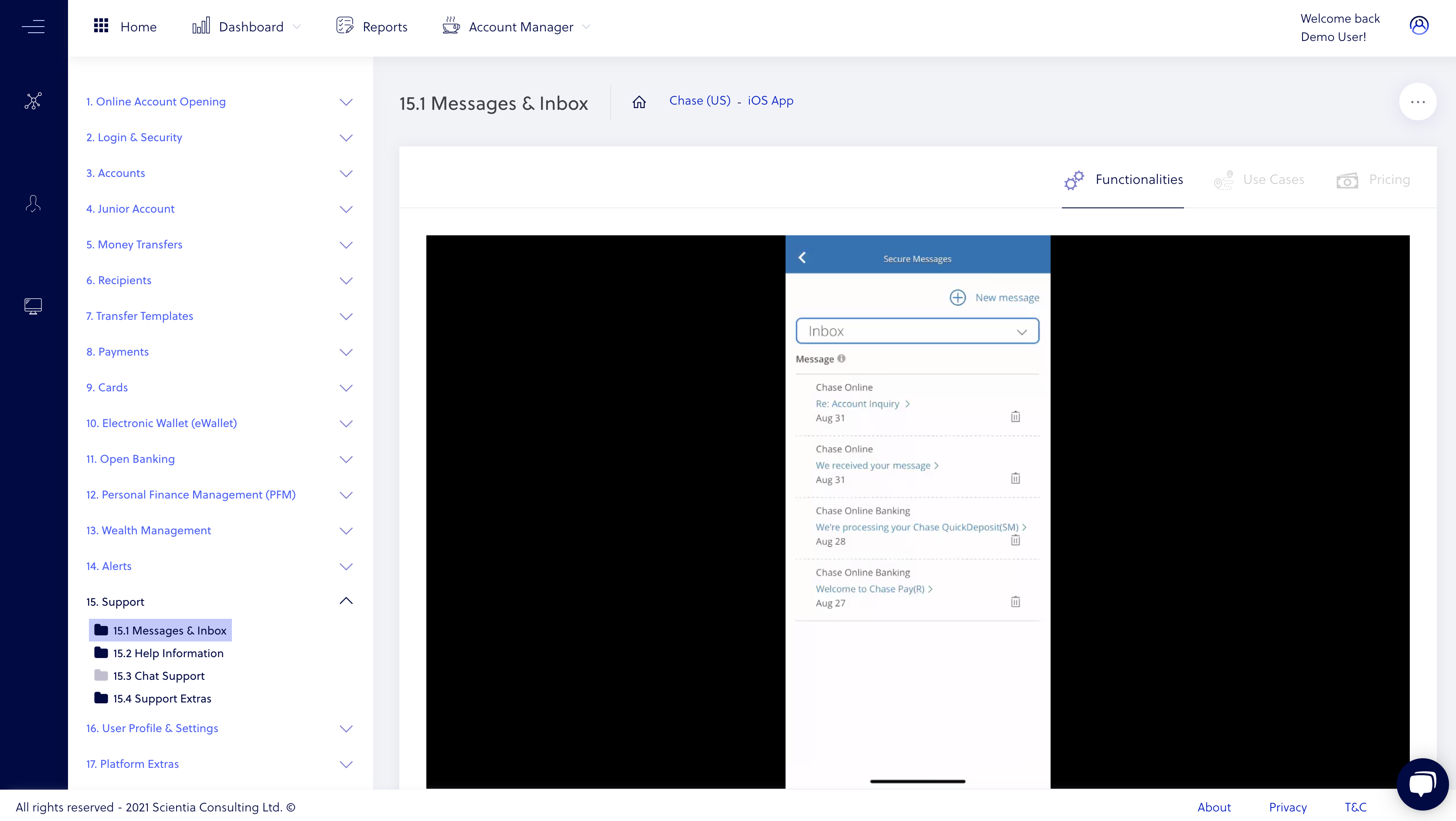 Offline Message in Chase iOS app.
Many banks provide offline support for their customers, meaning that users won't have to wait over a chat for the first free agent to answer them. Instead, they can send an offline message to the bank's support department and describe the problem which they wish to be resolved. Like an email exchange between the customer and the bank's support, they will have to wait for an official answer. The users can log in when the bank has responded to their inquiry and reply whenever they have free time to do so. Customers who choose this option will have to wait to be emailed back and it might not be suited for urgent matters.
Documentation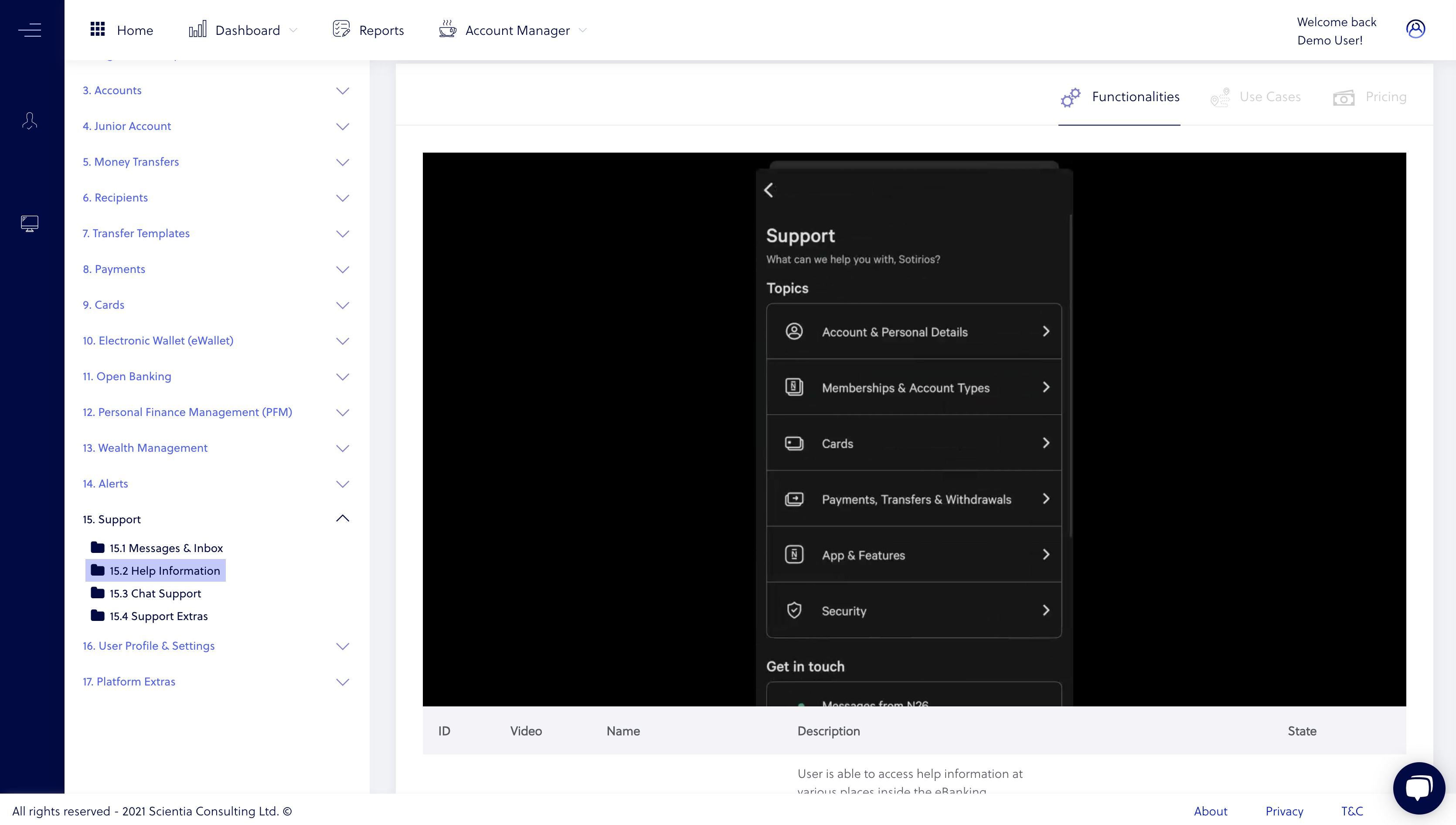 Support documentation in N26 iOS app.
The bank's documentation is also a very important feature that can be extremely helpful to customers. In this second offline category customers are introduced to documents which are either personal (transaction reviews, monthly statements) or for general use. The latter documents included articles and blog posts by the bank's support team or its community, videos, how-to blogs, thread discussions and FAQs.
Easy to read and to search documentation for digital banking is more necessary than ever. Customers who have to deal with many tasks in their everyday life prefer to easily access content that can help them solve their problem in seconds rather than wait in line for minutes or hours. It also allows them to feel a part of the community built around the bank and show the bank catering to their needs with the utmost convenience for them. For banks this could reduce heavy loads from their live customer channels if users could have simple needs met through digital banking applications and the platform instead of live-representative channels.
Support through digital channels can be the make or break element for financial institutions. Far more than any digital banking offering they provide, this is one of the core ones that customers appreciate. Customers will not think twice to change their banking provider if they are faced with bad customer service support. Even if a bank doesn't offer the most innovative features or the best UX, helpful customer support can go a long way in keeping customers satisfied with their bank. Knowing that their bank will be there for them at a time of need is paramount in building trust and loyalty.
Explore

and see how your financial institution can offer this incredible feature through your digital banking.