Did you know that the US has the second most competitive economy in the world, based on the Global Competitiveness Index, as Visual Capitalists states in this article.
The US is also highly invested in Banking, having the second position in the world, coming right after China, in having the largest banks (based on Tier 1 Capital) as reported by The Banker. Needless to say, banking is a living and breathing organism, needed to sustain a large portion of the American economy.
So what is the problem with that? Well, in order to retain those positions, people need to also have Bank accounts in these Banks, right?
For many years, traditional high street banks in the USA were the only choice for an American citizen when it came to having a bank account. And then Challengers came to play and reshaped the entire banking world.
There are a lot of reasons why someone may stick to Bank A rather than Bank B. For some it is the trust they get, the services the Bank provides, if there are branches and ATMs that they can visit in close proximity, even if it was their parents choice and this bank runs in the family.
But let's take things from the very beginning. Becoming their actual customer. We have an ongoing battle, with Challenger Banks across the pond, analyzing various aspects of their digital banking services in our infamous "Battle of Challengers".
So we thought we would pack our information and fly to the USA in order to orchestrate another battle there. Why? Because we want to know how easy is it to open an account in Wells Fargo, and how easy is it to do the same in Chime?
Are Challengers really disrupting the financial ecosystem in the USA? Or should they let the big guys handle banking, as they have done for decades now?

What's the digital banking situation in the land of the stars and stripes?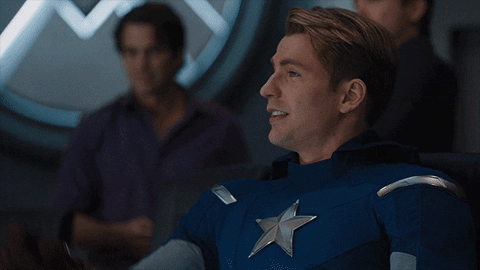 has a vast pool of US Banks analyzed already, so we had all the data to dive into this battle with the proper arsenal. So what are we waiting for?
Let's Find Out.
*Quick Note: The scenario will be executed via an iOS Mobile.*
Opening the accounts
Chime was founded in 2013, by Chris Britt and Ryan King. They take pride in saying that they made banking - awesome. Okay, but how awesome?
We have opened an account with Chime, and here are the steps we had to take:
Note: Not a smart solution, the user has to type EVERYTHING. Please Automate some processes.
Personal Information (Date of Birth, SSN)
Income - Occupation Information

Note: This is needed for identification purposes, yet there is a sneaky question at the very end.
How did you hear about Chime?
We all need data about how our customers got to reach us, but you can do this any other way other than this, e.g. with a pop up in the e-banking. I've said it once and I'll say it again: The user wants to become your customer. Why are you distracting them with other information?
Review Everything
Agree to T&C
Done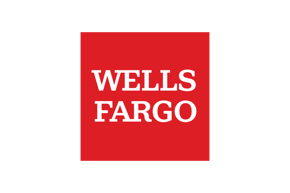 Wells Fargo has been in business for 168 years! Yes, you read that right, they were founded in 1852. I am sure their technology has come a long way since then, but let's analyze how far is that far..
From the App to a browser
Note: I would like your opinion on something. You are a mobile user, and you wish to open a bank account. So normally you download the Bank's app and click the big red "Become a customer" button, only to be redirected to your phone's browser to do that process. In most cases you are going to have readability issues, something might not be responsive, you are most probably going to become frustrated...to say the least.
Note: In a world where almost every application has access to our location via GPS, there is no need for me to type my ZIP code.
Note: Let's see how many times I have to declare that I just want to open an account. So far it has been 3!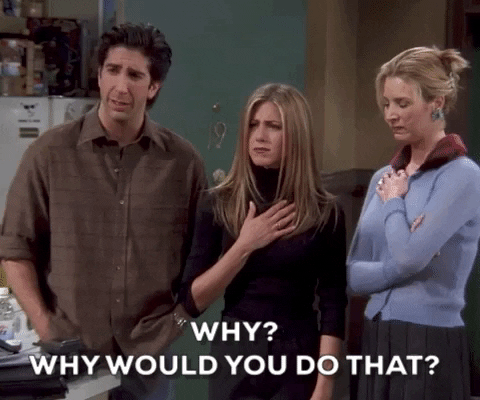 Note: From our understanding here this application is for customers that are new and existing. Let me explain: If you are not a Wells Fargo customer you choose the option stating you are not already a Wells Fargo Customer. If you wish to add a different type of account in your existing Wells Fargo account, you choose the other option and continue with the process. This, apart from taking a while to write, is tiresome and fictitious for the user. It's been seconds since I started the application of becoming a customer, and I have already been asked 3 times for the same information. "Do you want to open an account with us or not?"
ID verification via photos
Note: Great job there Wells Fargo! There is nothing worse than an endless form that needs a lot of typing and input. Here the user just needs to take a quick photo of their preferred legal document, and all information is pre-filled for them.
Verify Information
Personal Information
Fund Account
Note: Wells Fargo requires a minimum opening deposit of 25$. They provide the option of funding the account during the opening process, or they have a "fund later" option. But if you have this option for your users, why not wait until they create their account, to prompt them to deposit this amount? You are just adding more steps, in a process that can be much simpler.
Review Information
Agree to the T&C
Mobile phone number - verified by SMS OTP
Create Credentials
Email Verification
Note: We have seen this with Monzo as well. The user has to leave this application, open their emails, click on the link to verify their account and be redirected back to the application process. Not such a good practice in terms of User Experience.
Log In
Review and Agree to the T&C
Set your Card's PIN
Note: We are many steps into this process of becoming a Wells Fargo customer and even though we have, kind of, gotten our account, now we have to set up our Debit Card, including the PIN.
The verdict
So how easy is to become a customer for each one of these two Banks? Well it seems that Chime has made it extremely easy in comparison to Wells Fargo.
Here are some important data, we extracted from the
research platform that you need to know for both processes.
In order to open an account in Chime, a user has to take 31 Active steps, and 13 Passive Steps. In total the entire process includes 44 steps.
Wells Fargo requires a whooping 58 active steps, and 40 passive steps. In total you need to follow 98 steps in order to open an account in Wells Fargo from your phone!
Now on to User Experience.
We have a dedicated post on the method we use in order to measure, quantify and evaluate the User Experience for every User Journey, which you can find here.
Based on the analysis, we have found that Chime offers a way better User Experience than Wells Fargo when it comes to opening an account.
More specifically the UX score Chime receives is -135/1000, very low to the -931/1000 that Wells Fargo receives.
Below you may find both Flowcharts, taken by FinTech Insights. Click to expand, in order to see every single user step.
Chime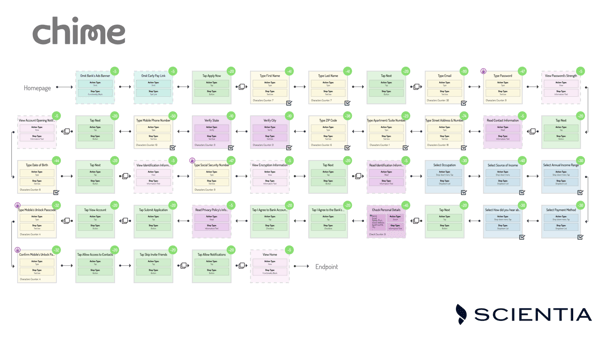 Wells Fargo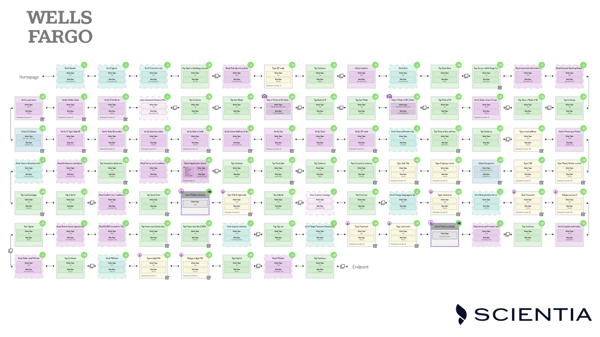 Just to give you a quick overview of the general landscape in the USA, regarding the provided UX, here is the UX score of a small sample of Banks (High streets and Challengers) when it comes to KYC.
Bank of America: -685/1000
Current: -201/1000
PNC: -757/1000
All those scores are just indicative of the US market of digital banking KYCs. Stay tuned and uncover the wealth of information that FinTech Insights can offer to your banking experience.
Take a deeper look into all these data to find how your bank's UX score and process looks like from a customer's perspective, by booking
.