The pandemic has arguably halted most interactions between people. But, with restaurants, coffee shops and bars slowly opening up again, and the delivery and take away options readily available to anyone, people continue to eat and drink together.
Whether during a socially-distanced walk with a coffee at hand or at a burger house, or even at home, people need to be able to pay together and share the bill.
This does not longer mean either calculating their share and paying separately with cash or card. Especially since the last few years customers paying in shops are increasingly becoming more in favor of contact-free over contactless payments.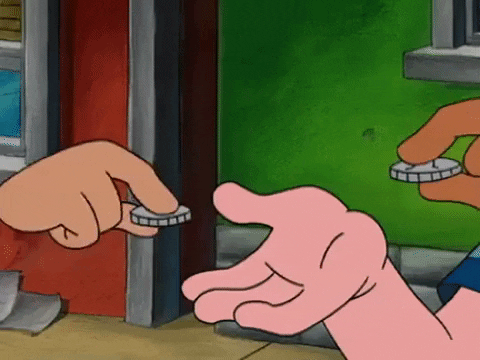 To cater to that demand, and with the boost of all things digital brought on by COVID-19, US banks have incorporated the "Split the Bill" feature. This handy feature is becoming more and more sought after by customers. With it people can split their bill using their mobile banking applications or web browsers. They can arrange for an amount or a bill to be shared among members of the party and everyone can pay directly for their share.
In this version of Fintech Bites, we will be looking at the "Split the Bill" functionality. In previous blogs we covered the Functionalities Ranking of US Challenger Banks, 5 Key Functionalities in Junior Accounts and Ranking of Functionalities of UK High Street Banks.
Using the
digital banking research platform we have compiled a list of all the US banks that provide this feature. For this list we have taken into account the iOS and Web channels.
Predetermined amount VS Manually typed-in amount
When we're talking about the "Split the Bill" feature we are in reality talking about two different ways, through which US banks offer this function. The first method is by selecting an already-completed transaction and splitting the transaction's specific amount among different users. The second pathway is through which customers type in an amount they decide they want to be split between users. The main point of difference between pathways is how the amount for the transaction is determined.
In order to perform the first one, customers must have already completed a transaction and request that it be split between a number of other users. In this case, the amount is automatically selected to be that of the already completed transaction the user has selected. It is not editable. In the second, the amount to be split is editable and is manually typed in by the user that requests to split the bill. It can be any amount that the user types in.
To further clarify, let's see these two ways through a common scenario: Michele wants to split the pizza bill with three of her friends.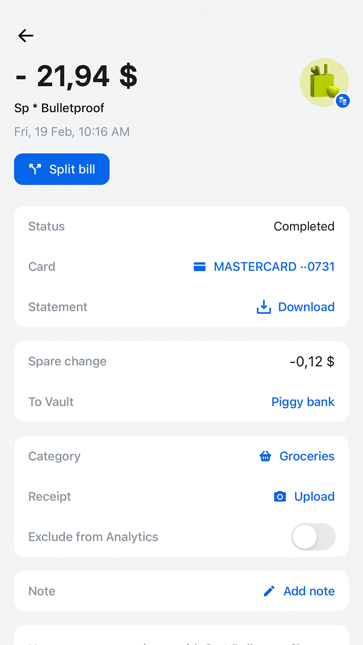 Preselected amount: In this instance, Michele will have to choose the friends to share the bill, then go back to her completed transactions and find the pizza bill and select it. Lastly, she will have to request that bill to split by sending payment requests via a Peer to Peer Payment service (e.g. Zelle) to her 3 friends.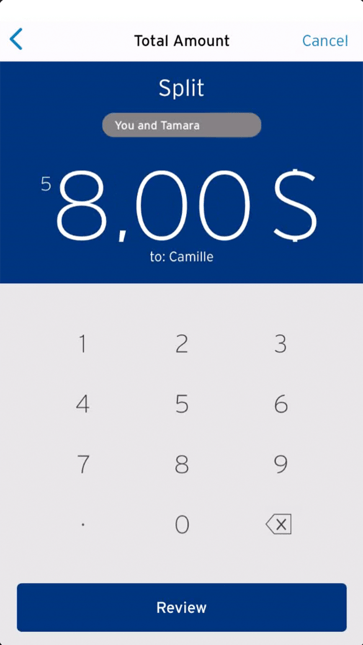 Manually typed-in amount: Michele, in this case, will have to choose her friends to share the pizza bill. Then, knowing that the pizzas cost 40$, she will input that amount. Finally she will request the 40$ to be shared with her friends.
iOS channel
There are several US banks that offer their customers this functionality through their iOS mobile application. Based on our 2021 analysis, Chase, Ally, PNC, Citibank, Bank of America, TIAA Bank, TD Bank and Citizens Bank offered the Split the Bill functionality, but with our new data of 2022 America First Credit Union, Discover, KeyBank, NYCB, PenFed Credit Union, UFirst Credit Union and US Bank also provide this feature, with all the above banks/credit unions using Zelle as their Peer to Peer Payment Service. Of the two distinct categories of how this feature is provided, the aforementioned US banks/credit unions offer the "Manually typed-in amount" pathway where the amount is not predetermined by a previous transaction.
Newly-inductee to the US market, Challenger Revolut, offers this feature with the "Predetermined amount" version, from a selected already-completed transaction. This is supported internally and not through the use of a third-party payment provider, like US banks above. In Revolut, customers can also "Split a Bill" through creating Groups of Bills.
Chase customers can swiftly use the "Pay & Transfer" button, choose the "Request/Split with Zelle" function and select up to 15 recipients to request to share an amount. Through PNC, customers will have to choose to send money with Zelle, tap the "Split" button and select recipients to share the amount set within 14 days before the transaction request expires.
Similarly, Ally customers need to select transfers through Zelle and use the "Split" money feature. Then, they can choose up to 5 recipients, review the delivery method of the request, input the amount they wish to split, review the transaction details and execute it.
In their "Transfer/Zelle" tab, Bank of America customers can tap on the split payment and after selecting the recipients, proceed to set the amount and request the split.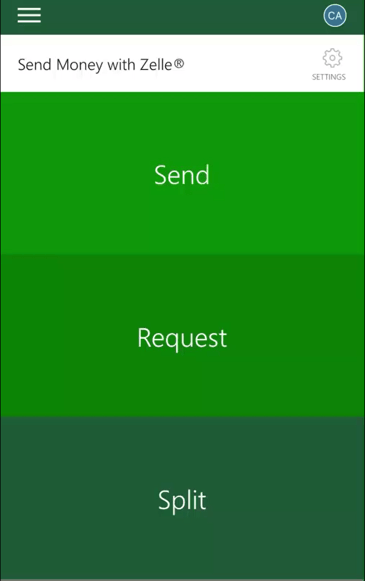 ΤD Bank users will have to follow a similar path (select transfers, tap "Send money with Zelle", then "Split" and select recipients) to split their bill with others.
Citibank, TIAA Bank, Citizens Bank, America First Credit Union, Discover, KeyBank, NYCB, PenFed Credit Union, UFirst Credit Union and US Bank all have embedded the same path as the above banks for their customers to follow in order to split the bill. Again, via Zelle and without a preselected amount.
It is evident that most US banks who have integrated the Peer to Peer Payment Service, Zelle, into their banking applications to conduct this function, have largely incorporated the same characteristic yet efficient path to complete the transaction. First choose to send money through Zelle, then tap "Split" and select recipients and finally set the amount before reviewing and sending the request. Recipients of the payment requests can be all customers that use Zelle.
Revolut, however, as mentioned above "Splits the Bill" of an already completed transaction between users, without collaborating with a third-party money transfer provider. The way this is completed is through the "Predetermined amount" pathway, where the amount is set by a past transaction. Customers first have to select the users they want to split the transaction with, then a previous transaction to be split and finally execute it.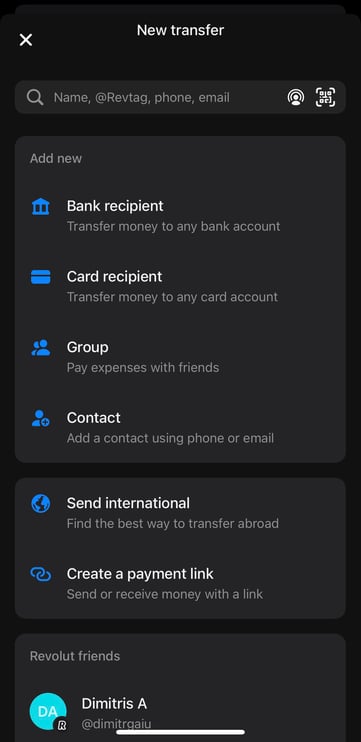 Revolut provides another way for this to be completed. Through Group Bills. These can be created for a specific purpose (e.g. monthly Spotify subscription) and include specific users which have to pay that bill.
In both two paths used by Revolut, the recipients of the payment request and group bill members must have an account at the Challenger bank.
Web channel
In the web channel, our 2021 analysis showcased only 3 US banks that support this feature: TD Bank, Chase and Citizens Bank, but our 2022 data demonstrate that additionally America First Credit Union, Discover, KeyBank, TIAA Bank, UFirst Credit Union and US Bank also offer the Split the Bill functionality. All provide it through the version where the amount is set manually by the user who initiates the transaction. The Peer to Peer Payment Service, Zelle, is used in the web channel as well.
Customers of TD Bank, America First Credit Union, Discover, KeyBank, TIAA Bank, UFirst Credit Union and US Bank, as with the iOS mobile application, have to go through the same exact steps. Select transfers and then "Send Money with Zelle", choose to split the bill and then the recipients of this transaction, enter the amount, review and send the request.
The Chase web feature of "Splitting the Bill", even though it is similar with the iOS channel, it includes the input of more information that was not requested in the mobile app. Again, the user must select "Pay & Transfer", and then "Request & Split".
The customers, also, need to select recipients, which is where the two channels differ from one another. In the iOS app, customers have to select recipients by searching through the app using their name, phone number or email. But, in the web version, they have to type in all these information for each recipient included (if it's the first time using the feature).
Citizens Bank, as with their iOS application, needs customers to select transfers, then choose the option of Zelle, decide on the recipients, set the amount and finally review and send the request.
Request links can be sent only to customers that have an account with Zelle.
Final Thoughts
What we can easily take from the data collected through
about the split an amount between different customers function is that US-based banks/credit unions use a different method from EU-based Revolut. The major difference as noted above is found in how the amount is set. Customers of the first have to type an amount to split after choosing recipients. The latter's customers need to select an already executed transaction in order to split it among users.
As is clear from the analysis of how each bank fulfills the concept, all US-Banks/credit unions provide a swift and efficient way to complete this user journey. The ease with which it is executed can be accounted to the common utilization of Zelle. Customers can in very few steps split an amount between them using the "Manually typed-in amount" method.
Another critical outcome here is that the majority of banks that offer this feature are traditional US banks/credit unions. This comes as a surprise taking in mind that such an innovative feature comes mainly through the digital banking platforms of traditional banks and not the heralds of digital transformation, the Challengers banks. Only 2 Challengers operating in the US market provide the feature, compared to 14 traditional banks/credit unions.
There's clearly room for improvement for both Traditional banks and Challengers. However, the analysis also shows that Challengers are not always at the forefront of innovation. Traditional banks should at no time be considered to be lagging far behind. They are as indicated in this analysis quite adept at listening to what customers demand in their markets.
For an even more in depth analysis of how each of these banks incorporated Zelle, or how Revolut offers the group bill functionality, and even more features
.
Discover how and where we get all these data through
.
Read more Fintech Bites:
Ranking of Functionalities of UK High Street Bank
5 Key Functionalities in Junior Accounts
Functionality Ranking – USA Challenger Banks
This article was originally published on February 25, 2021 and was updated on December 8, 2022.